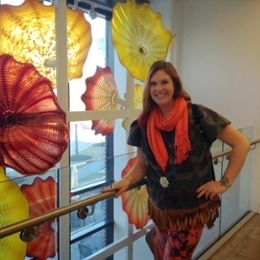 Year Graduated
2009 & 2014
Major/ Minor
Art 
What are you up to now?
Teaching art at Nandua Middle School in Accomack County on the Eastern Shore of Virginia. I LOVE IT! 
How does your art major/minor inform your career?
I wasn't sure what to expect moving back to Harrisonburg after graduating and teaching for 4 years. A lot had changed in a small amount of time- I had found a terrific job teaching elementary school art, found my fiancé, and even bought a house in Onley, Va.
I had a strong conviction that I wanted to do my masters work (that was always in my plans) at JMU because of the incredible mentors I had met there during my undergrad work. Specifically Kathy Schwartz and Bill Wightman. They were the people who I credited my amazing undergrad experience and held (and still do) a very special place in my heart. When I visited the campus during renovations in 2012 and met the new member of the program Karin Tollefson Hall, we immediately clicked and it solidified my longing to come back to the campus full time. The timing was perfect in the fall of 2013 for me to attend full time as the GA- luckily my county was gracious enough to give me a leave of absence. Knowing I had the security of a job when returning to Accomack county, I packed up and headed for the mountains once again.
No one could have ever prepared me for the months ahead. I learned more about art education, being a good teacher, and more about myself than I ever thought possible. Allowing me to work so closely with the undergrads and in teaching their own classes, Roger Tomhave and Karin Tollefson Hall were instrumental in making me feel confident in my abilities. Writing my thesis under the supervision of Roger was certainly one of the highlights of my experience. Let me tell you, he is one of the most patient and good hearted teachers I have ever met. My experience would have not been what it was without his guidance and leadership.
I certainly think of the art Ed professors at JMU often when teaching, using their strategies, and when emulating their enthusiasm and passion for art education at the school where I now teach middle school. (which by the way is my dream job) there is no doubt in my mind that I will be life long friends with these wonderful people and that I will take my professional career further in the art education field because of the confidence they helped me create in myself!  
What is your advice for JMU students knowing what you know now?
Become a sponge and try to absorb everything you possibly can from your professors! They are invaluable.  
Website/ Blog
coveredinpaint.weebly.com (my personal site)
coveredinpaintbraves.weebly.com (my site for art students)