Welcome back for the 2023-2024 School Year
Frequently Asked Questions
About
We've long known that the lack of diversity in STEM (science, technology, engineering, and mathematics) fields has been a persistent problem for decades. When we ask our Space Explorers to describe what they think a scientist looks like, we see traditional stereotypes of "white", "male", and "old" year after year in their illustrations. Are scientists really different from everyone else? Are they "six sigma deviants" on some Bell curve?! Surely in the 21st century, these are just outdated stereotypes, right? A prominent Caltech astronomer Dr. Shrivinas Kulkarni recently commented to NPR that "many scientists, I think, secretly are what I call 'boys with toys'". At a conference in 2015, Sir Tim Hunt, the 2001 Nobel laureate in Physiology or Medicine said, "Let me tell you about my trouble with girls. Three things happen when they are in the lab: you fall in love with them, they fall in love with you, and when you criticise them they cry."
Even here in the Shenandoah Valley we have heard from parents and students alike about these outdated ideas about who can do science and who can't. We say science is for everyone but our caricatures of scientists, our words, and our actions say something else. We cannot continue to exclude from our classrooms and labs roughly half of our population. By doing so, we are not only limiting the conversation but we are also excluding bright minds that can bring their talent to bear on some really tough problems. 
As the image below from a recent NSF study shows, white men currently make up 51 percent of all STEM jobs despite making up only 31 percent of the population — which means women and most minority groups are underrepresented and underserved. Not only does this contribute to race and gender wage gaps — STEM workers typically have higher salaries and currently enjoy a lower rate of unemployment than the general working population — but it also critically shortchanges the STEM community, since it means there are talented minds that haven't been reached and important perspectives that are missing. Science Sundays... for Girls is our small contribution in encouraging young American girls in the Valley to consider careers in science & engineering. Science is for everyone and its important that young girls know that and see that in action!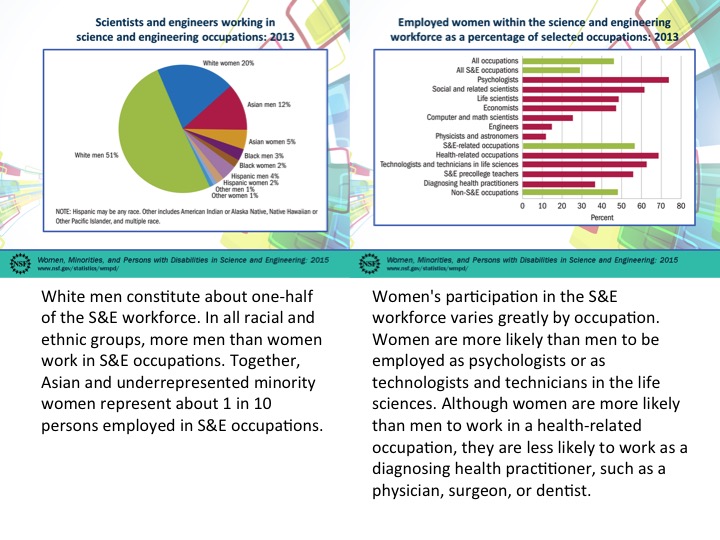 JMU College of Education M.A.T. candidate Sara Clemmer and IDLS junior Gretchen Blincoe, two John C. Wells Planetarium educators, comment on why they want to see a program like this, "We want to increase girls' interest in STEM by creating a supportive environment where we get to nurture the creative spark that can on occasion be stifled if not cared for correctly.  Our goal is to promote the successes of women in STEM fields, and let students know that these activities are fun.  Sometimes students mentally shut down when they hear "STEM" because they might think they aren't smart enough to complete the activity.  They don't realize that these activities include creating and designing something.  We want our students to be proud of their accomplishments, and feel safe expressing their pride.
In the Press
"'Science Sunday for Girls' combats classroom stereotypes", The Breeze, December 3, 2017

"After 36 years in a closet, JMU planetarium canvas surfaces", The Breeze, September 21, 2017

"Eyes In The Sky: JMU Planetarium Hosting Monthly Events To Get Girls Interested In Science", Daily News Record, Monday, March 7, 2016.