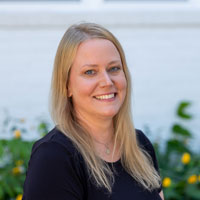 Enrollment Specialist, Professional Development
I mostly work with folks interested in completing any of our several, typically online, noncredit Professional Development certificate programs. This means that I speak to members of the wider community who are looking to either start a new career or advance in their current job role. 
I really enjoy communicating one-on-one with adult learners, especially when the conversation becomes a tool to help someone realize a burning professional goal, and I'm fortunate to spend the day chatting with adults determined to turn their occupational dreams into reality. The best thing about working in Professional Development is being a partner in education with some of the most inspiring adult learners residing in the gorgeous Valley and beyond.