Elizabeth Sacco: Enrollment Specialist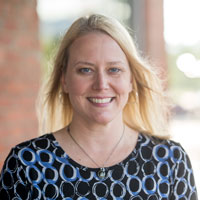 Enrollment Specialist, Professional Development
In my current role I reach out to adults interested in completing any of our several, mostly online, noncredit Professional Development certificate programs. For the most part, this means that I speak to members of the wider community who are looking to either start a new career or "move up the ladder" at their current company or organization.
I joined PCE in January 2017 after working in the banking industry for seven years. And just a few years ago as an adult learner myself, I completed a Bachelor of Arts degree in Sociology from Mary Baldwin University. It might seem like a big leap to go from working in banking to academia, but what I've found is that no matter what career situation has put me in front of a client or student, we all want the same thing: Someone we can trust who will collaborate on behalf of our aspirations or needs.
And while it's deeply rewarding to chat among groups of people who have come together because of a shared passion for occupational advancement, I also love to communicate one-on-one with folks, especially when the conversation becomes a tool to help someone realize a burning professional goal.
I consider myself lucky to spend most of the day chatting with adults determined to turn their occupational dreams into reality. Truly the best thing about working in Professional Development is being a partner in education with some of the most inspiring adult learners residing in the gorgeous Valley and beyond.