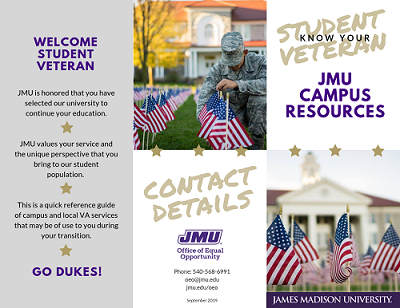 Campus Resources
Office of the Registrar-Veterans Educational Benefits:  The Registrar's office provides assistance to active-duty, Veterans, spouses & dependents with VA educational benefits. The office's VA Certifying Officials assist with the GI Bill® process and serve as liaisons between: the student and Veterans Affairs; Veterans Affairs and JMU; JMU and the student; and the State Approving Agency (SAA) in Virginia and JMU.
The JMU Veterans webpage is intended to serve as the portal to all things related to Veterans' JMU experience.  It provides direction to the various offices and individuals across campus and the community that will best serve Veterans.
Career and Academic Planning helps student veterans identify career options, convert resumes, translate military experience, find and apply to jobs and internships, and prepare for interviews.
Office of Disability Services: Disability services are available to currently enrolled students who have a documented disability that substantially limits them in one or more of life's major activities. Individuals eligible for services include, but are not limited to, students with Learning and Psychological Disabilities, Attention Deficit Disorder, Mobility, Orthopedic, Hearing, Visual, and Speech Impairments as well some Medical Conditions. ODS provides programs, accommodations, access, screenings and assessments.
The Counseling Center provides support and services to JMU students who are military-connected from Veterans, Active Duty, National Guard, Reserves, to ROTC. Counseling Center staff can provide assistance to JMU students who are dealing with the stress that comes from the cycle of deployment, transitioning to civilian and college life, navigating dual identities as students and service members/Veterans, and connecting with campus and community resources. CC clinicians can help Veterans identify, prioritize, and implement strategies to address their specific concerns and challenges. A list of local providers participating with TRICARE is also available.
The Veteran Scholars Task Force is a university wide committee comprised of students, faculty and staff dedicated to enhancing the student Veteran academic experience and professional development by providing a continuum of services.
JMU Student Veterans Association: The mission of the JMU SVA is to provide resources, support, and advocacy in the JMU campus community for student Veterans, service members, and military family members (on Facebook @JMUSVA).
Center for Student Veterans:  Located in the Student Success Center, Room 1500, the center serves as a quiet place to study, collaborate or socialize for any current or retired U.S. military members. Key card access is granted when enrolled as a student Veteran with the registrar.
ROTC: The "Duke" Battalion recruits, develops, trains and commissions agile and adaptive warrior leaders to meet US Army leadership requirements and motivates young people through caring leadership to be better citizens committed to lifelong service of the community and Nation. Students currently enrolled at James Madison University that are in the National Guard or Army Reserves may join ROTC as part of the Simultaneous Membership Program (SMP) provided all enrollment criteria have been met.
Department of Veteran Affairs
VA's GI Bill®: As a Veteran, you may be eligible for educational benefits through numerous GI Bill® programs. Once you've decided to use your GI Bill® benefits it's important to choose the proper school and type of training. VA's decision-making tools will help you get the most from your benefits.
VA's Vet Centers: Vet Centers welcome home war Veterans with honor by providing quality readjustment counseling in a caring manner. Vet Centers understand and appreciate Veterans' war experiences while assisting them and their family members toward a successful post-war adjustment in or near their community.
VA's Harrisonburg VA Contract Community Based Outpatient Clinic provides Veterans accessible, coordinated, comprehensive, patient-centered health care delivered by primary care providers with active involvement of other clinical and non-clinical staff. CBOC hours are Monday through Friday from 8 a.m. to 4:30 p.m., excluding federal holidays. 
VA's Dentistry provides dental eligibility and patient information, and clinic locations.  The nearest VA dental clinics are in Richmond and Roanoke.  For a list of local dentists participating with TRICARE please click here.
VA's National Center for PTSD is dedicated to research and education on trauma and PTSD.  This website contains information for the public and professionals, research, and links for where to get help for PTSD.
VA's Vocational Rehabilitation and Employment (VR&E): The VA's Education and Career Counseling program is a great opportunity for Veterans and Service members to get personalized counseling and support to help guide their career paths, ensure the most effective use of their VA benefits, and achieve their goals.
VA's Returning Service Members (OEF/OIF/OND) transition assistance information for Enduring Freedom, Iraqi Freedom, and New Dawn Veterans.
VA's Center for Women Veterans (CWV)
Student Veterans of America National organization created to provide  student Veterans with resources, support, and advocacy needed to succeed in higher education and post-graduation.  (See above for JMU SVA chapter.)
State Resources
The Virginia Department of Veterans Services (DVS) connects Virginia's Veterans and their families to federal and state benefits, support, quality care, and recognition they have earned.  
Virginia Veterans Resource Guide provides Virginia's Veterans and their families with useful information on all state resources.
The Staunton Benefits Office is the nearest DVS center.
Student Veterans of Virginia on Facebook @StudentveteransofVA. (See above for JMU SVA chapter.)
Local Veteran Organizations
VFW Post 632 Rion-Bowman Post
Facebook @VfwPost632
450 Waterman Drive
Harrisonburg, VA  22802
Phone: (540)434-9972

American Legion Post 188
350 Waterman Drive
Harrisonburg, VA  22802
Phone: (540)434-1887

AMVETS
1340 N. Liberty Street
Harrisonburg, VA  22802
Phone: (540)434-331
---
This institution is approved to offer GI Bill® educational benefits by the Virginia State Approving Agency.

GI Bill® is a registered trademark of the U.S. Department of Veterans Affairs (VA). More information about education benefits offered by VA is available at the official U.S. government website at http://www.benefits.va.gov/gibill