---
Music industry graduates are creative managers and entrepreneurs whose most valuable asset is versatility in an industry that requires flexibility.
---
The Music Industry program offers a broad course of study designed to meet the constantly changing requirements of a multi-faceted and protean industry. Music industry graduates are creative managers and entrepreneurs whose most valuable asset is versatility in an industry that requires flexibility to think beyond the limitations of narrow vocational study. Graduates have launched careers at such diverse businesses as American Society of Composers, Authors and Publishers (ASCAP), BMG Music Publishing, Columbia Creative Services, Epic Records, Creative Artists Agency and Red Light Management, in locations from Charlottesville, VA to New York, Los Angeles and Nashville.
JMU offers two undergraduate degrees with Music Industry: a Bachelor of Music w/ an emphasis in Music Industry & a Bachelor of Arts in Music with a concentration in Music Industry. JMU also offers a minor in music industry. Students in the music major with a concentration in Music Industry take a core of music industry, business and traditional music courses. Concentrators and minors choose from a wide range of courses tailored to their interests, which serve as the foundation for later career growth and development. Course offerings include study in music production and promotion, music business, and technology, all with an emphasis on entrepreneurship in the music industry.
Please take note that all Bachelor of Music applicants must audition on a primary instrument or voice part. This includes music industry. Please refer to the audition requirements for your instrument or voice, which can be found here. Those who would still like to study music industry, but are not able to audition should consider the music industry minor (see link to brochure below).
For more information on the difference between a Bachelor of Music & a Bachelor of Arts degree, please click here.
For any questions or more information on Music Industry at JMU, please contact Dr. David Cottrell at cottredx@jmu.edu.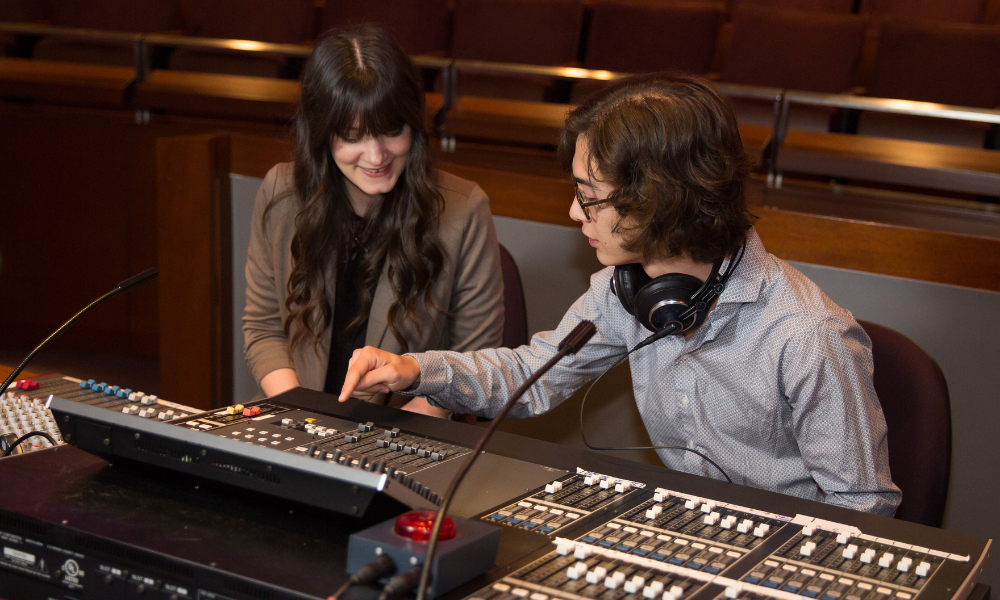 Careers in music industry include:
Advertising agencies
Artist management
Booking agencies
Concert production & promotion
Film scoring
Independent record labels
Major music journals & magazines
Major recording labels
Music publishing
Songwriting/arranging
Public & commerical radio stations
Recording studios
Sound technician
Audio post production
Television stations
Theater management
Music Industry Resources at JMU
Students in the music industry program have access to a digital recording studio, MIDI laboratory and a music library/listening/computer lab that houses MIDI workstations. Four rehearsal halls in the Music Building are connected to the control room of the main recording studio to facilitate satellite recording of large ensembles.
The JMU studio is equipped with Analog preamps by Grace, Portico, Avalon, and Aphex and a microphone collection including Neumann, Earthworks, AKG, Shure, Sennheiser, and other leading brands. The recording interface and DAW are capable of recording and processing high fidelity audio with multitrack inputs from the treated live room, and isolation booth. Plug-ins and other effects processors allow synthesis and sound manipulation for creating unique recordings. Students studying and researching the legal aspects of the music industry also have access to the Rockingham County Law Library housed in the Massanutten Regional Library.
Works by Music Industry Faculty