Composition Audition Guidelines
In addition to a required applied area audition, students who wish to gain entrance into the composition program must also submit a portfolio of scores and recordings that represent your best work in composition to date. Your composition portfolio will be submitted through Slideroom as part of your School of Music application and should consist two or three pieces that show the range of your work (ensembles, style, length, technique, etc). Submissions should be in PDF format for scores and MP3 format for recordings.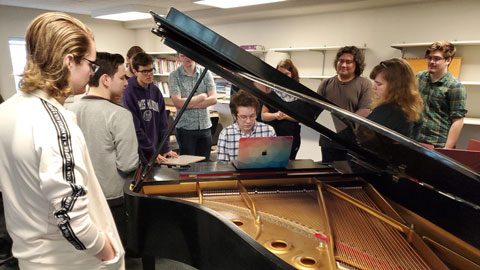 After submitting your portfolio through Slideroom, you may be invited to do a 15-minute callback interview with the composition faculty on the afternoon of one of the audition days. For the interview, please be prepared to discuss your composition background and experience as well as your interests and goals for studying composition in college. You will also have the opportunity to ask the faculty any questions you have about the program.
Please note that the JMU composition concentration is centered on contemporary concert music. Students interested in majoring in popular music, jazz, or musical theatre are encouraged to pursue concentrations in the music industry, jazz studies, or musical theatre areas.
If you have any questions about the program or any difficulty uploading your portfolio files, please direct your questions to Dr. Jason Haney (haneyjx@jmu.edu) and Dr. Eric Guinivan (guiniver@jmu.edu).