Brass Audition Guidelines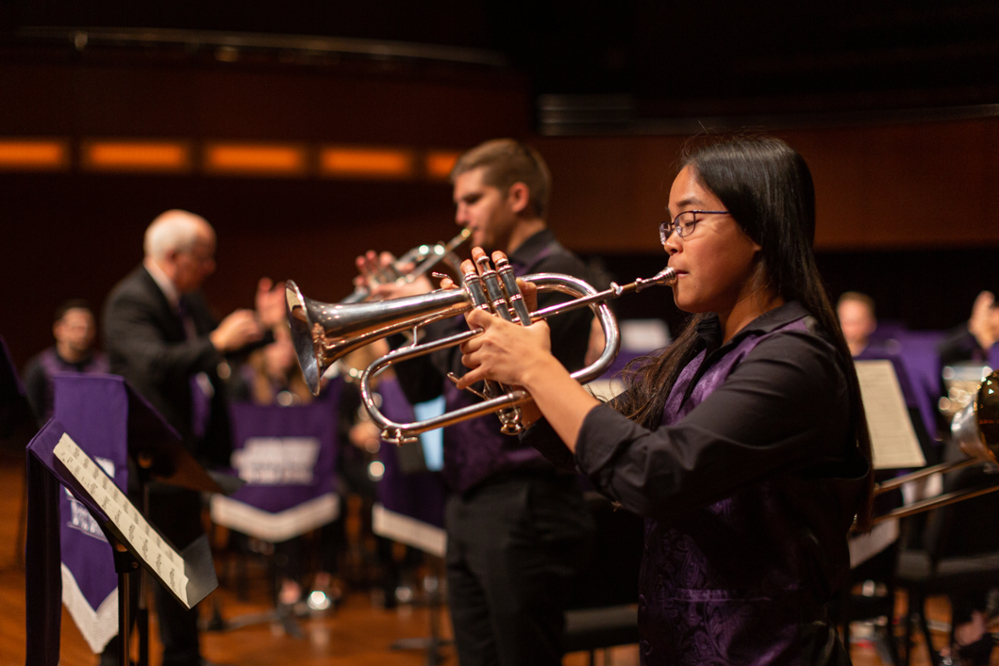 Euphonium
Auditionees should be prepared to perform the following (memorization is not required and candidates may perform with or without accompaniment):
Bordogni/Rochut - Melodius Etudes for Trombone, bk. 1, No. 16
Voxman - Selected Studies for Baritone, pp. 14-15: Ab Major, Allegro marziale
Solo selection of the candidate's choice from the standard repertoire listings on the state and national levels of grade IV or above
All 12 major scales - 2 octaves (eighth notes at 100bpm)
Contact Professor Stees if you have any questions or need help securing copies of the etudes: steeskj@jmu.edu 
French Horn
Auditionees should be prepared to perform the following:
Two contrasting selections from the standard Concerto, Sonata, or Unaccompanied repertoire. Choices should demonstrate both lyrical playing and technical command. Memorization and accompaniment are optional. For questions related to repertoire, please contact Professor Zook directly (zookir@jmu.edu)

Four major scales, played across two octaves followed by two-octave arpeggios. Please play as Horn in F, not concert pitch: F major, Bb major, Ab major, E major.

Optional: a short standard etude from Kopprasch, Kling, Maxime-Alphonse, Miersch, or Gallay.

Optional: up to three standard orchestral excerpts
Trombone
Students should prepare a minimum of two different pieces in contrasting styles that will best demonstrate their musical and technical abilities. These selections should be of a classical nature and can be selected from the standard solo or etude repertoire. Memorization is not required, and instrumentalists may perform with or without accompaniment. 
In addition to the prepared audition repertoire, students should be prepared to demonstrate their proficiency with 2-octave major scales. 
Students who wish to demonstrate their proficiency with orchestral excerpts and/or jazz are encouraged to do so. Students may audition on either tenor trombone or bass trombone. Those who are comfortable performing on both instruments are encouraged to demonstrate that in their submitted materials.
For suggested repertoire and information about the trombone studio, please contact Dr. Andrew Lankford, Professor of Trombone at JMU (lankfoab@jmu.edu).  Students are also encouraged to visit the JMU Trombone Studio website (http://www.jmutrombone.org).
Tuba
Auditionees should be prepared to perform the following (memorization is not required and candidates may perform with or without accompaniment):
Blazhevich - 70 Studies, vol. I, No. 23
Tyrell - Advanced Studies for Bb Bass, No. 13
Solo selection of the candidate's choice from the standard repertoire listings on the state and national levels of grade IV or above
All 12 major scales - 2 octaves (eighth notes at 100bpm)
Contact Professor Stees if you have any questions or need help securing copies of the etudes: steeskj@jmu.edu