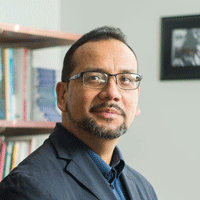 Read Carlos Galvan Alemán's Profile
Carlos Galvan Alemán is an Associate Professor of Communication Studies, and Coordinator of the Concentration and Minor in Cultural Communication. Dr. Alemán grew up near Fresno, CA, and earned his B.A. and M.A. in Speech Communication at the California State University, Fresno.  He earned his Ph.D. in Communication Studies at the University of Iowa.  Dr. Aleman's areas of teaching, research and outreach expertise include communication theory, interpersonal and cultural communication, discourse and identity in communities and in popular culture, and diversity and multicultural initiatives in educational institutions.  
Affiliation
School of Communication Studies
Publications
His research in interpersonal influence and compliance and writing on modes of communication in Latino communities has been published in Human Communication Research, the Journal International and Intercultural Communication, Communication Teacher, and the International Communication Association's Encyclopedia of Communication.