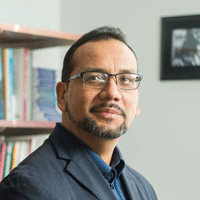 Dr. Carlos G. Alemán comes from a large Mexican American family and a small migrant farming town in California. A first-generation college student, he earned a B.A. and M.A. in Speech Communication at CSU Fresno, and Ph.D. in Communication Studies at the University of Iowa. He is an inaugural member of the Madison Hispanic Caucus at JMU.
Alemán teaches undergraduate courses in the cultural communication study of interpersonal and family relations, immigrant advocacy in local communities, qualitative research methods, and co-directs the SCOM Summer Study Abroad Program in Ireland and Northern Ireland. He is also a member of the graduate faculty for the M.A. degree in Communication and Advocacy, where he teaches seminars in communication theory, and critical cultural identity and relationships.
Alemán's writing on culture and identity in interpersonal and family communication has been published in Human Communication Research, Journal International and Intercultural Communication, Communication Teacher, Frontiers in Communication, and the Encyclopedia of Communication. He enjoys the creative inspiration of collaboration, including autoethnographic projects that explore race and narrative inheritance in multicultural family storytelling with Dr. Melissa Alemán; innovative partnerships that inquire race and the environment with Dr. Pete Bsumek; and grant funded research that examine Latinx beliefs of Covid-19 and its vaccine with Dr. Andrea Martinez Gonzalez, Dr. Tobias Reynolds-Tylus, and Dr. Diana Galarreta-Alma. Finally, he collaborates with colleagues across the JMU campus to co-manage Immigrant Harrisonburg, a community-based project to share storied experiences of immigrants living in the Shenandoah Valley.
Alemán is currently awarded a partial teaching release in order to be on-site at local high schools as a Professor in Residence, where he develops in-school activities and out-of-school programs that support under-served students toward higher education. One such work is the Scholars Latino Initiative, an academic, leadership, and mentorship program. This engaged outreach and advocacy in the community has been recognized by the university with the JMU President's Purple Star Award, the CAL Distinguished Service Award, the Martin Luther King, Jr. Community Service Award, and the JMU NAACP Guiding Light Award.
Scholars Latino Initiative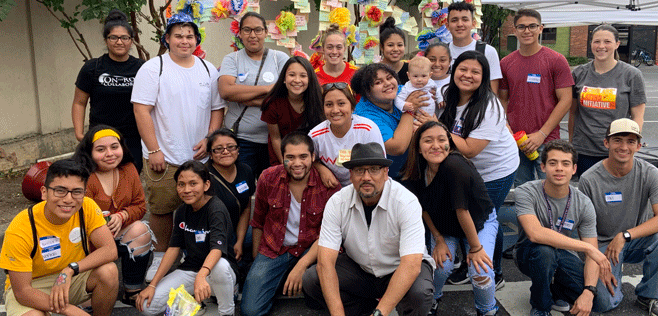 Travel Buddies