Marlena Meikrantz Sharp: Associate Director of International Student & Scholar Services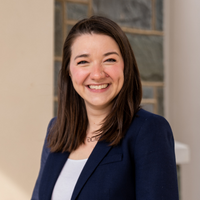 Marlena ("Marlee") Meikrantz Sharp (pronouns she/her) joined the Center for Global Engagement in August 2015 as the Assistant Director of International Student and Scholar Services. Marlee earned her Bachelor's degree in Political Science and Spanish from Dickinson College in Carlisle, PA, and studied abroad in Málaga, Spain for her junior year. She is currently pursuing her M.Ed. in College Student Personnel Administration at JMU. Prior to joining JMU, Marlee worked at Dickinson College for five years in their Center for Global Study and Engagement with incoming international students and scholars, and previously with study abroad programs. She also served on the board of the Pennsylvania Council for International Education, specializing in their marketing and communications strategy.
In her current role as Associate Director, Marlee oversees immigration and programming for international students at JMU. Marlee enjoys working with international students and hopes to make their time at JMU a positive and rewarding experience. In addition to her focuses on assessment and retention, she works to promote student success campus-wide through her involvement with Madison Cares and the annual Student Diversity Summit.