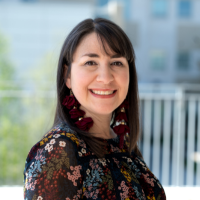 Angeline McMullin joined the Center for Global Engagement in August of 2022. She came to JMU with over ten years of experience as the Director of Global Perspectives at a private university in Tennessee and over twenty years of experience in higher education administration. Angeline will be working directly with the short-term programs and coordinating the major study abroad events on campus as well as working closely with the Study Abroad Advisor and the Study Abroad Outreach and Partnerships Coordinator to help students find the right program for them.
Before beginning her work in higher education, Angeline completed a Bachelor of Arts in Psychology and a Master of Liberal Arts in Organizational Leadership specializing in student leadership development. She has personally traveled all over the world and has taken groups of students to many international and domestic sites. Her favorite part of travel is exploring each location and finding what is unique and special about that culture.
Studying abroad gives students the opportunity to immerse themselves in another culture and broaden their understanding of the world. There are so many amazing sites to see and interesting people to meet. Angeline challenges all students to view life through someone else's eyes; you may be surprised how it changes your own perspective!