Sherry Lu: Faculty Immigration Specialist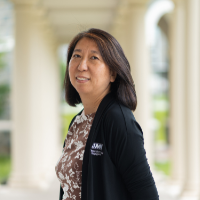 Sherry Lu joined JMU in July of 2022 as Faculty Immigration Specialist. In this role, she manages the H-1B process for international faculty and staff and the J scholar's program. She also supports the International Faculty and Staff group by working collaboratively to create semester events, maintains the listserv, and provides communication on upcoming events and immigration updates. In addition, she serves as a backup Designed School Official (DSO), providing a full range of immigration support as needed.
Sherry earned a Bachelor of Laws degree from Zhongshan University, Guangzhou, China, and a Master of Laws degree from the University of Georgia at Athens, GA. She has been working in the U.S. immigration field since 1999, specializing in employment-based immigration. She has assisted businesses from start-up companies to large multinational corporations, educational institutions, non-profit entities, and religious institutions with temporary work visas and permanent resident visas. She has also assisted families and individuals in obtaining family-based visas and U.S. citizenship. Prior to coming to the U.S, she taught contracts and civil law in China for over 10 years.
Sherry is a member of the New York State Bar and the American Immigration Lawyer Association. She speaks Mandarin and Cantonese Chinese.