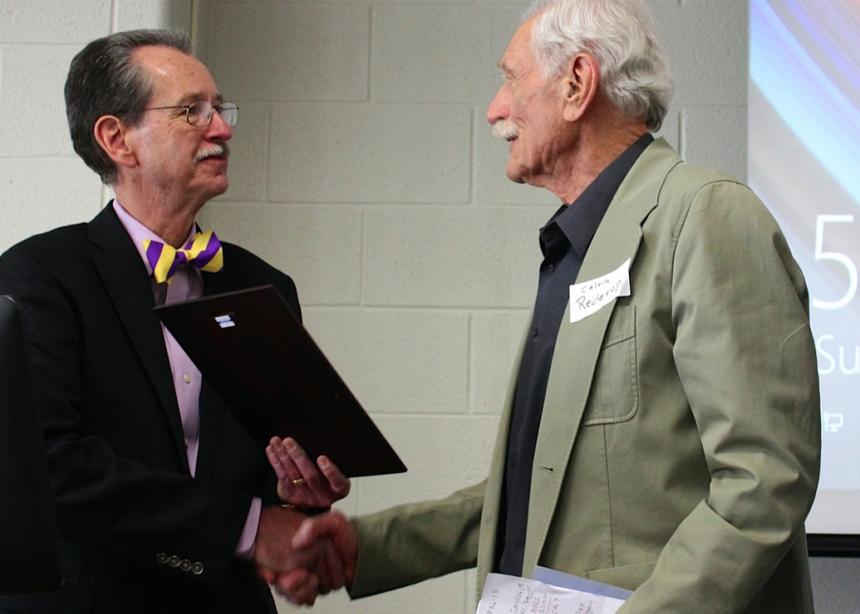 The Mahatma Gandhi Center for Global Nonviolence's Community Service Award is conferred in recognition of "visionary leadership and enduring commitment to the creation of a more compassionate, equitable and caring community." 
The award is bestowed upon individuals whose work in the community exemplifies the spirit of service and nonviolence. These individuals or organizations demonstrate this commitment through life-long civic engagement and service.
Community Service Award Recipients
The 2015 recipient of the award was the PAX Program for their pioneering global initiative of voluntary and alternative service. The PAX program (1951-1976) was first imagined by Calvin Redekop and Paul Peachy, who both retired in Harrisonburg, VA and worked for Mennonite Central Committee (MCC) at the time, to help rebuild post-war Europe by providing a voluntary service option to the military draft.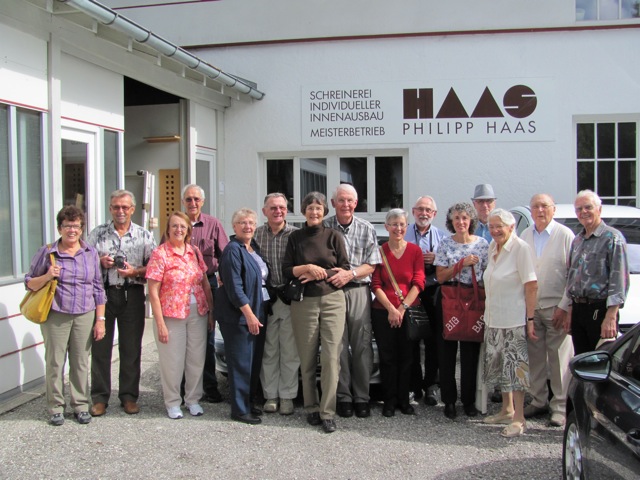 Nearly 1,200 men and women, including over 40 from the Shenandoah Valley, went to 42 different countries around the world and were involved in numerous agricultural development and construction projects. PAX began in Germany where "PAXmen" helped build refugee homes, but in a short period expanded its scope of activities to other parts of Europe such as Austria, France, and Greece, and to the Middle East, Africa, Asia, and Latin America.

General Lewis Hershey, Director of US Selective Service, visited the PAX site in Germany in August, 1951 to evaluate the program and approve it as alternative service to the military draft. The program also was a pre-cursor and part of the inspiration for Senator Hubert Humphrey, Sargent Shriver and United States President John F. Kennedy to launch the long-running Peace Corps program. PAX also served as a model of alternative service for other countries, such as Germany and Italy.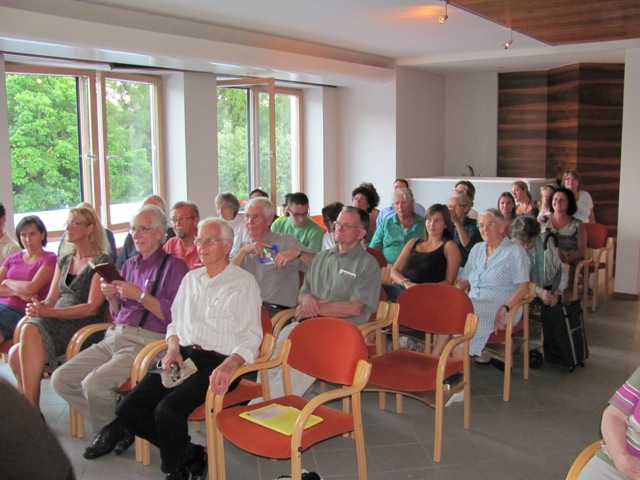 The program's ethic was non-bureaucratic and the basic philosophy was "serving to get the job done." The MCC executive committee did a focused review in 1957 and concluded that, "the PAX program has been making a unique and valuable contribution in the relief and mission outreach. Our churches and young men continue to have a strong interest in this service and new opportunities for service should be sought."
The PAX program had a deep impact on the lives of many young men, and almost all agreed that their years of service were, according to later research, "the most important life changing years of [their] lives." 

Pax Service: An Alternative to War is an hour-long documentary produced by Mennonite Media and premiered on the Hallmark Channel in November 2008. Two books also have been written about PAX: Urie Bender's (1969) Solidiers of Compassion and Calvin Redekop's (2001) The Pax Story. 
Howard Zehr, PhD, Distinguished Professor of Restorative Justice at Eastern Mennonite University (EMU), and Vida Huber, PhD, Associate Dean of CISAT at JMU, were recognized in October 2013 with the Mahatma Gandhi Community Service Award. Dr. Zehr was recognized for his foundational work on restorative justice with the 2012 establishment of the Zehr Institute for Restorative Justice at EMU, while Dr. Huber held leadership roles at both EMU and JMU before her passing in 2005.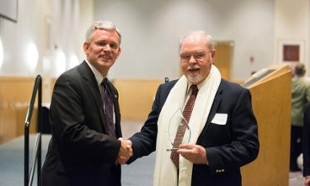 Two individuals with ties to James Madison University and Eastern Mennonite University, whose work has improved the lives of people in the Harrisonburg community and beyond, were honored with the inaugural Community Service Award from the Mahatma Gandhi Center for Global Nonviolence.
The individual contributions of Dr. Howard Zehr and the late Dr. Vida Huber were celebrated at a reception on the JMU campus Oct. 2, the 144th anniversary of Gandhi's birth and the International Day of Non-Violence. JMU President Jonathan Alger presented the awards to Zehr and to Harold Huber, Dr. Huber's husband.
The award honors the body of work both Zehr and Huber contributed to the fields of restorative justice and health care, respectively. Zehr, known as "the grandfather of restorative justice," is the Distinguished Professor of Restorative Justice at EMU's Center for Justice and Peacebuilding and co-director of the Zehr Institute for Restorative Justice.
"Howard has a worldwide influence on restorative justice," said EMU President Loren Swartzendruber at the awards reception. His contributions to the field date to the late 1970s, when he was a practitioner and theorist in the foundational stage of the restorative justice movement. Zehr has led hundreds of events internationally that focus on restorative justice, victim-offender conferencing, judicial reform and other criminal justice issues.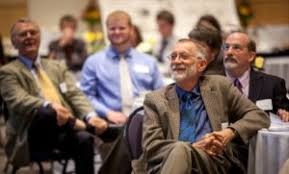 He is a past member of the Victims Advisory Groups of the U.S. Sentencing Commission and has taught courses and workshops in restorative justice to more than 1,000 people, many of whom lead their own restorative justice-focused organizations. Representatives of the Council for Restorative Justice at Georgia State University, Youth Justice Initiative in Iowa and Mediation Northern Ireland are among the leaders Zehr has taught.
Zehr is also a talented photographer, Swartzendruber said, noting that his images "help us to see others as real people." A keen sense of humor, vital faith and humility are other strengths Zehr possesses. "You can interact with him for a long time without hearing about his professional accomplishments," Swartzendruber said.
Huber was an associate dean in JMU's College of Integrated Science and Technology at the time of her death in November 2005. She spearheaded the formation of JMU's Institute for Innovation in Health and Human Services, whose purpose is to serve people with a variety of needs. Huber also held the distinction of serving as head of the nursing departments at JMU and EMU.
In 2002, Huber received the James Madison University Citizenship Award, which recognizes an individual who demonstrates the spirit of Madison's commitment to the public good. Dr. Jerry Benson, JMU provost and senior vice president for academic affairs, who called Huber "a dear friend and colleague," described her as "a person with vision and a passion for service."
Recalling her remarks upon receiving the citizenship award, Benson quoted his friend: "Service is at the heart of my philosophy of life, and I believe that it is through service to others that we ourselves become more whole."
Her community leadership included serving as president of the Harrisonburg-Rockingham Free Clinic Board and as an active member of the Valley AIDS Network, Harrisonburg-Rockingham Youth Commission, Northwest Virginia Council of AIDS Service Organizations, Healthy Community Council and Blue Ridge Area Health Education Center Board.
The Gandhi Center membership expects to present the Community Service Award every two years.
"It is important for people to know their efforts are recognized," said Gary Race, director of the Gandhi Center. "It is important for what they do.