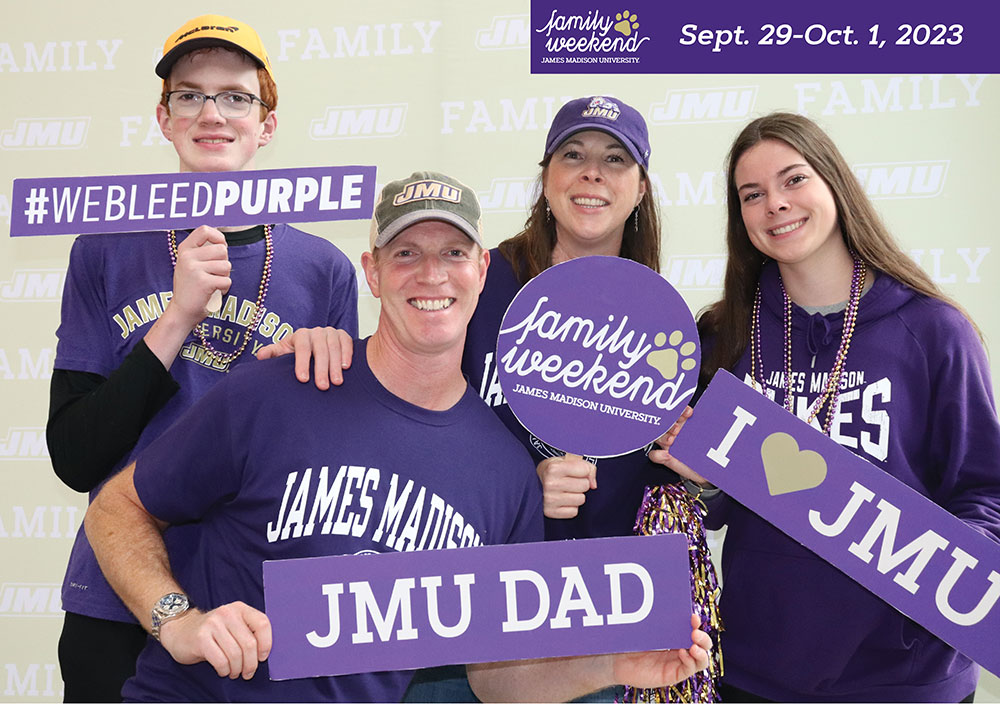 Parking
General Campus Parking



Beginning Friday of Family Weekend, all JMU parking lots are open to visitors with the exception of reserved football lots during the times indicated below. Be sure to park in general spaces not designated for special use by signage. Pay station parking is enforced 24 hours a day, 7 days a week. Call Parking Services at (540) 568-3300 for recommendations on parking lots close to your destination. Lot reservation for football begins at 4:00 PM on Friday and continues until the conclusion of the football game on Saturday. Any vehicles left in reserved lots after 9:00 PM on Friday may be cited and towed.
View parking map »  |  View Accessible Parking Map »
 See this site for the Football Game Shuttle Schedule 
---
Football Game Day Parking
Find information regarding the following areas at the link below:
Reserved Game Day Parking

General Game Day Parking

Student Game Day Parking

Football Shuttle Service

Football Post-Game Traffic Patterns

Accessible Parking

RV/Bus Parking

Directions to Parking Lots
Football Parking Information »
---
Ticket Information
Ticket Orders
Tickets for the football game, D-Hall Fan Favorites, Family Weekend Picnic and Fantastic Feast may also be purchased in advance at the Athletic Ticket Office or by phone at (540) 568-3853. 

Register early! Many Family Weekend ticketed events are limited and sell out early. Don't miss out on any of the fun!
Purchase Tickets »
---
Food Menus
D-Hall Fan Favorites Saturday 4-8pm

No reservations required. (Those with reservations will print off tickets $15 tax included)
$15.75 (plus tax if purchased at the door), kids 5 and under free (JMU students free with meal plan and must have their JACard at the event to deduct 1 punch)
All-you-care-to-eat dining stations include:
Pulled Pork Sandwiches with three cheese macaroni and coleslaw
Beef tacos with cilantro rice and chipotle black beans, chips & queso
Italian Sandwich on homemade footlong rolls and Martin's BBQ Chips
Deep Dish Chili Fritos cheddar pizza,

 

cheese, and pepperoni Pizza
Kung Pao Tempura Cauliflower, rice, Asian Slaw
Rotisserie chicken with roasted potatoes and corn on the cob
Tailgate Pasta Salad with salami, olives, tomatoes, mozzarella cheese and roasted red peppers, Bread Bar w/ Spreads
Grilled and Fried Chicken Sandwiches with sides
Create your own Stir-fry!
Assorted Gourmet Desserts
---
E-Hall Fantastic Feast Saturday 4:30-8pm
Reservations required - no walk ins. (print off tickets) Early seating 4:30-6:00pm, late seating from 6:15-8:00pm. $27 plus tax, children (6-12 years) $17, 5 and under free (JMU students free with meal plan and must have their JACard at the event to deduct 1 punch)
All-you-care-to-eat dining stations include:
Steamed Crab Legs: Served with drawn butter and fresh lemon
Gourmet Shrimp Cocktail: Chilled Jumbo Shrimp served with classic cocktail sauce, cilantro lime tomatillo cocktail sauce, creamy Cajun cocktail sauce
Smoked Salmon Bar: Smoked Salmon served with capers, tomato, onion, boiled egg, and an assortment of flavored cream cheeses
Grilled Pear and Goat Cheese Salad: A bed of field greens topped with warm grilled pears, chilled toasted quinoa, acorn squash, pomegranate seeds, herbed goat cheese, pepitas, and drizzled with a caramelized strawberry balsamic vinaigrette
Butternut Squash Bisque: Velvety spiced roast butternut squash soup topped with maple crème fraiche, and apple-ginger relish
Ancho Grilled Chicken: Grilled Ancho-Lime Chicken topped with black bean and corn salsa, served atop Spanish rice and grilled zucchini squash
Smoked Beef Brisket: Slow Smoked Dry Rubbed Beef Brisket drizzled with maple barbeque sauce, served with creamy asiago macaroni and cheese, sauteed green beans with caramelized onions
Roasted Salmon: Dijon Herb Crusted Salmon Fillet topped with arugula gremolata served over crispy fingerling potatoes, confit rainbow carrots
Artisan Charcuterie: Gourmet meats, cheeses, bread & fresh seasonal fruit, served with assorted jams, jellies, mustards
Chimichurri Chicken: Marinated Chicken Skewers roasted in our tandoor oven topped with chimichurri served over chorizo potato bravas, grilled sweet peppers and wild mushrooms, Argentinian white sauce
Tofu Tikka Masala: Marinated Grilled Local Tofu in a creamy tomato and pepper sauce served over garlic basmati rice with fried onions, served with vegan raita, mango chutney, and fresh baked naan bread
Seasonal Fruit and Dessert: Fresh seasonal fruit display and house made gourmet desserts
---
Family Weekend Picnic On Hanson Field Saturday 10:00am - 2:00pm.
Reservations required - no walk ins. (print off tickets) $17 plus tax, children(6-12 years) & First Gen $10, 5 and under free (JMU students free with meal plan and must have their JACard at the event to deduct 1 punch)
Menu: 
Seasonal Salad - mixed baby greens, shaved carrots, cranberries, pickled red onions, tortilla strips, balsamic vinaigrette & ranch dressings
Pasta Salad
Redskin Potato Salad
Vegetable crudité & hummus
Traditional beef chili, white bean vegetarian chili, cheese, onions
sour cream, jalapenos, corn chips and hot sauce
Hot dogs & vegan hot dogs, ketchup, mustard, relish
House smoked pulled pork, BBQ sauce & potato rolls
Valley style chicken
Assorted craveworthy cookies & dessert bars
Assorted canned beverages and bottled water
---
If a JMU student does not have a meal plan, they must purchase the adult meal ticket.
Frequently Asked Questions
Where can my family find lodging?
Area accommodations fill up quickly, so make your reservations early! See a list of hotels/motels in Harrisonburg and surrounding areas here.

When should I plan to arrive and depart?  
Families arrive as their work obligations and other commitments permit. The more popular events (student conferences, shows and football game) are generally scheduled for midafternoon on Friday into Saturday evening. 
Do we need to register somewhere when we arrive on campus? 
There is no need to formally register upon arrival. Please review individual event descriptions for registration information. 
What is the refund policy for tickets?  
No refunds or exchanges. For questions regarding your order, please contact the JMU Athletic Ticket Office at (540) 568-3853 or athletic-ticket@jmu.edu. 
Are family members/guests invited?
Family members and/or guests are welcome at events. 
What is the dress code for Family Weekend?
We recommend that you dress comfortably and in layers as temperatures throughout each day may vary. (Please note that the Fantastic Feast is casual attire.) 
Where can I purchase JMU clothing and other logo items?
The JMU Bookstore. 
Is tailgating allowed and if so, where?
Yes, on football game day, you may tailgate in any of the general parking lots on campus. General parking is free and available on a first come basis. Tailgating in general lots is permitted four hours prior game time. Reserved parking is available for Duke Club Members, call (540) 568-3853 for more information.
Who do I contact if I have additional questions?
For general questions, please contact the Family Engagement Office at (866) 399–8432. For Football, Fantastic Feast, D-Hall Family Weekend meal or Family Weekend Picnic (Hanson Field) ticketing questions, please contact the JMU Athletic Ticket Office at (540) 568–3853. 
---