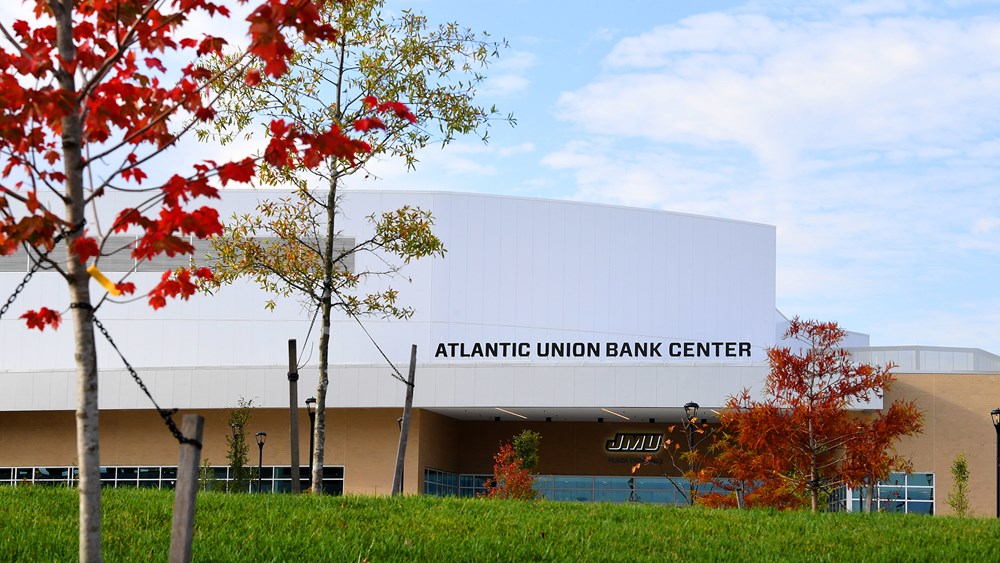 Doors to the Atlantic Union Bank Center open ninty minutes prior and early admittance will not be permitted. Guests will enter at either the Plaza or Champions Entrance. Graduates will enter through designated "Grad Only" doors at Plaza Entrance.
Parking Information:
The following lots are within a short walking distance to the Atlantic Union Bank Center:
-        Ballard Parking Deck (East Campus Parking Deck) – 649 University Blvd.
-        Lots D3, C12, and R4 – 1400 Carrier Drive (these lots are across from the Festival Center)
 Accessible parking is located on every level of the Ballard Parking Deck (the parking deck adjacent to the Atlantic Union Bank Center).
Security Information:  
Bag checks and metal detectors will be utilized at all entrances. We encourage you to leave unnecessary bags at home or in your car, if possible, to speed up the process of entering the ceremonies. We will not implement the clear-bag policy for commencement. 
Prohibited Items: 
Alcoholic beverages, controlled substances, weapons, fireworks
Animals (service animals are permitted)
Bags larger than 12"x12"x12"
Coolers
Glass and metal containers
Noise makers and other devices that impede the ceremonies
Food and beverages (though one unopened bottle of water per person and food for a baby or for health reasons are permitted.) Concessions open when doors open and are located throughout the arena. 
Signs, flags, banners, or obscene or indecent clothing
Large Strollers (umbrella style are permitted) 
Wheelies, bicycles and skateboards 
Wrapped gifts
Allowed Items:
One unopened bottle of water per person
Small strollers (umbrella style)
Flowers
Still cameras are permitted. However, in no instance may photography interfere with access ways, aisles, or other guests' enjoyment of the ceremonies. Video cameras, monopods and tripods are not permitted. This event will be live-streamed. 
Graduates, you should enter the arena using the Plaza Entrance doors – specifically the two doors that are farthest to the right.  Your guests may enter at any of the other doors.  You will be asked by event/security personnel to unzip your gown as they look for prohibited items.  
From there, you will be ushered inside the arena where you should follow signs to the floor seats. Graduates, you will receive your seating assignment via email the week of commencement. This email will come from your college. 
Please be in your seat at least twenty minutes prior to the ceremony start time. Follow the signs to proceed to the lower floor level of the arena.  Those who arrive late will be escorted downstairs and will need to wait and be seated at an appropriate time.
Graduate name cards will be on each seat. You MUST have your name card with you as you approach the stage.  Your card has a QR code that will be scanned and as you cross the stage. Once the photos are complete, you will proceed back to your seat.  You should not leave the ceremony once your name is called.
Once the ceremony concludes, graduates will proceed upstairs to the concourse where you will be directed outside to the large plaza, where you can reunite with family and friends. 
If you have a question or need assistance, please see an usher. 
Congratulations! Go Dukes!