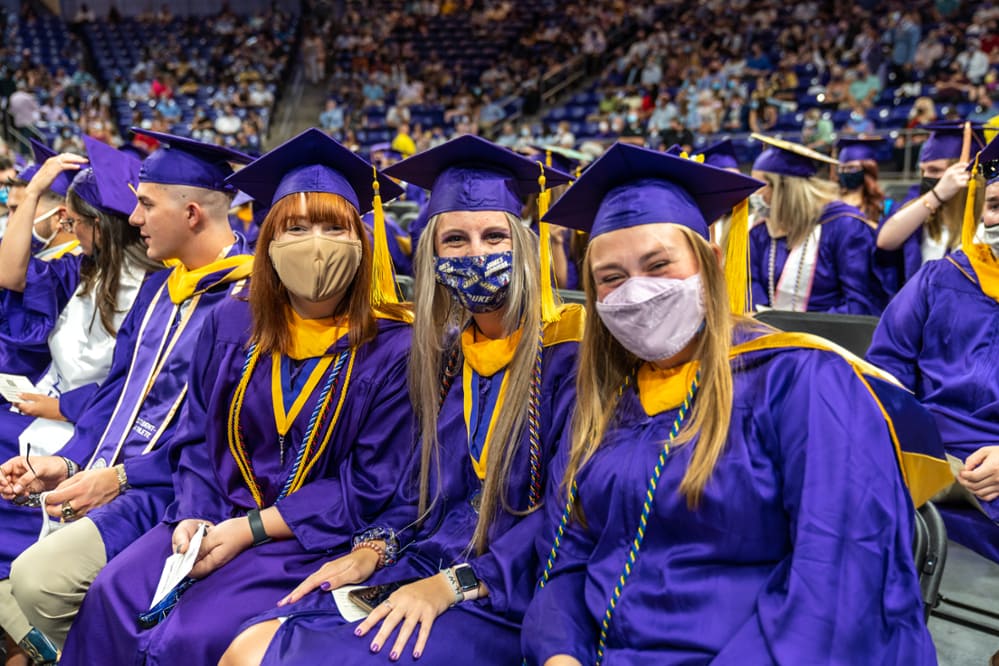 Accessibility for Guests
Accessible Parking :
Parking within a short walking distance:

For individuals with officially issued state handicap parking permits, there are a few reserved spaces in the Ballard Parking Deck and all lots surrounding Atlantic Union Bank Center. Please be certain that your DMV issued Handicap Permit is displayed and visible.
Ballard Parking Deck is accessible with elevator service and a short walk through the Plaza to either entrance. 
Surrounding lots with a short walking distance: D3 lot, C12 lot, R4 lot.
Parking with a shuttle service provided:

The shuttle service provided for commencement is accessible for all guests. 
Shuttle pickup locations:
Convocation Center - Shuttle will pick up and drop off using the front sidewalk (in between Entrances A and B)

Guests should park in the following lots: Convo Lot A, Convo Lot B, Convo Lot E

Transportation Shelter at D2 Lot (across from the Physics and Chemistry Building on East Campus)

Guests should park in the following lots: D1 Lot, D2 Lot, C10 Lot 
Accessible Seating:
Accessible Seating is located in Sections 105, 107 and 109 in Atlantic Union Bank Center.
See and usher for assistance. 
Other Services
Interpreter Services:
American Sign Language services for hearing impaired individuals are available upon request. Please inform us of your need for Commencement by calling (540) 568-7787 or emailing University Events.
Please submit your request before December 1, 2021. 
Captioning:
The Winter Commencement Ceremony held on Saturday, December 18th at 10:00 a.m. in Atlantic Union Bank Center will provide closed captioning during the event. In addition, the live-stream that will be posted on the commencement homepage during the event will include closed captioning for at home viewers. 
Please email your accessibility questions to University Events or call 540-568-7787.