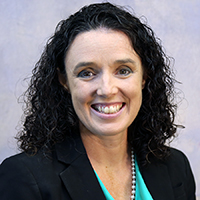 Associate Professor
Middle, Secondary, and Math Education
Dr. Sarah Lupo is an Associate Professor in the Middle, Secondary, and Mathematics Department at James Madison University. Dr. Lupo received her bachelor's degree from James Madison University and a Master's and Ph.D. in literacy education from the University of Virginia. Dr. Lupo has extensive teaching experience, including working as an English teacher, ESL teacher, reading specialist, and literacy coach. Dr. Lupo has taught elementary, middle, and high school in Washington D.C., Istanbul, Turkey, Phoenix, AZ, and Charlottesville, VA.
Dr. Lupo's work has been published in journals such as Reading Research Quarterly, Journal of Adult and Adolescent Literacy, Reading Teacher, and Review of Educational Research. She recently published a book entitled Teaching Disciplinary Literacy in Grades K-6: Infusing Content with Reading, Writing, and Language (Routledge, 2021) and has published several chapters in books. Dr. Lupo strives to put theory into practice to find practical ways teachers can improve literacy instruction for K-12 students across the content areas in order to enhance literacy instruction for all students, especially English Language Learners and students from nontraditional backgrounds.
Recent Publications
Lupo, S. M., Townsend, D., & Knecht, R. (2023). Enhancing secondary teachers' opportunities to learn about comprehension in culturally sustaining ways. In (Eds.) Robertson, D., Brock, C., & Hall, L. Innovation, Equity, and Sustainability in Literacy Professional Learning. Guilford: New York.
Hattan, C., Alexander., P., & Lupo, S. M. (2023). Prior knowledge activation redux: Conceptions, techniques, and influences on learning. Review of Educational Research.
Sawyer, A., & Lupo, S. M. (2022). Content-driven integration model for mathematics classrooms. Connections. Retrieved from: https://amte.net/sites/amte.net/files/Connections_Sawyer.pdf
Lupo, S. M., Hardigree, C., Thacker, E., Sawyer, A., & Merritt, J. (2021). Teaching disciplinary literacy in grades K-6: Infusing content with reading, writing, and language. New York: Routledge.
Tortorelli, L., Lupo, S. M., Wheatley, B., (2021). Examining teacher preparation for code-related reading instruction: An integrated literature review. Reading Research Quarterly, 56 (S2) 317-337. doi:10.1002/rrq.396  
Hattan, C., & Lupo, S. M. (2020). Rethinking the role of knowledge in the K-12 literacy classroom. Reading Research Quarterly (S2), 83-98. doi:10.1002/rrq.350
Lupo, S. M., *Berry, A., Thacker, E., Sawyer, A., & Merritt, J. (2020). Rethinking text sets to support knowledge building and interdisciplinary learning. The Reading Teacher, 73, 513-524. doi.org/10.1002/trtr.1869
Lupo, S. M., Tortorelli, L., Invernizzi, M., Ryoo, J. H., & Strong, J. Z. (2019). An exploration of text difficulty and knowledge support on adolescents' comprehension. Reading Research Quarterly, 54, 441-584. doi.org/10.1002/rrq.247
Lupo, S. M., Strong, J. Z., & Smith Conradi, K. (2019). Struggle is not a bad word: Misconceptions about adolescent readers and how to support them. Journal of Adolescent and Adult Literacy, 62, 551-560. doi.org/10.1002/jaal.926
Lupo, S. M., Strong, J. Z., Lewis, W., Walpole, S., & McKenna, M. C (2018). Building background knowledge through reading: Rethinking text sets. Journal of Adolescent and Adult Literacy, 61, 433-444. doi.org/10.1002/jaal.701