Dr. Melanie Shoffner: Professor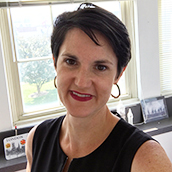 Professor
Middle, Secondary & Mathematics Education
Office: Memorial Hall 3265A
Email: shoffnme@jmu.edu
Phone: (540) 568-4314
About
Dr. Melanie Shoffner specializes in English language arts education. Her education courses include ELA methods, curriculum theory, and the student teaching internship; she also teaches an English course on resistance and power. Dr. Shoffner is the editor of English Education, a member of the International Federation for the Teaching of English (IFTE) Advisory Board, and a former Fulbright Scholar (Romania). Her research addresses the dispositional and reflective development of preservice teachers.
Research Areas
English teacher education
reflective practice
preservice teacher dispositions
international study
Education
PhD    University of North Carolina at Chapel Hill – Education: Culture, Curriculum & Change
MAT    Duke University – English Education
AB      Duke University – English and History
Fun Fact
Dr. Shoffner is a vocabulary researcher for The Henry Ford's Innovation Nation with Mo Rocca.
Recent Publications
Edited books
Shoffner, M., & St. Peter, R. (eds.) (2020). Teacher representations in dramatic text and performance: Portraying the teacher on stage. New York: Routledge. 
Shoffner, M. (ed). (2016).  Exploring teachers in fiction and film: Saviors, scapegoats and schoolmarms.  New York:   Routledge.
de Oliveira, L.C., & Shoffner, M. (eds). (2016). ELA teachers and ELL students: Preparing English Language Arts teachers to teach English Language Learners.  New York: Palgrave Macmillan.
Journal articles
Noel, T. K., & Shoffner, M. (2019). From preservice to practice: Expectations of/in the secondary ELA classroom. World Journal of Education, 9(6), 35-44.
Shoffner, M. (2019). "Being uncomfortable is important": The potential of study abroad for preservice English teachers' professional development. Pedagogies: An International Journal, 14(3), 93-108.
Homan, E. C., Shoffner, M., & Spanke, J. (2019). Intersections of teacher reflection and literacy instruction in the secondary ELA classroom. Ubiquity: The Journal of Literature, Literacy, and the Arts, 5(2), 39-67. Found at http://ed-ubiquity.gsu.edu/wordpress/homan-hoffner-spanke/.
Book chapters
Shoffner, M., & Webb, A. W., Doubet, K. J., Jaffee, A. T., & Rahman, Z. (2020). Authentic selves in virtual spaces: Reflections on pedagogy during a pandemic. In K. J. Fasching-Varner, S. T. Bickmore, D. G. Hays, P. Schrader, D. L. Carlson & D. Anagnostopoulous (Eds.) The Corona chronicles: On process, leadership, commitment, and hope in uncertain times. Diopress.
Sogar, C. & Shoffner, M. (2020). Arguing for empathy: Subverting the teaching of argumentation. In J. Dyches, B. Sams, & A.S. Boyd (Eds.), Acts of resistance: Subversive teaching in the English Language Arts classroom (pp. 22-35). Myers Press.
Shoffner, M. (2019). The potential of problematic practice: Preparing teachers for the secondary ELA classroom. In H. L. Hallman, K. Pastore-Capuana, & D. L. Pasternak (Eds.), Possibilities, challenges, and changes in English teacher education today: Exploring identity and professionalization (pp. 39-50). Rowman & Littlefield.
Shoffner, M. (2019). When the gun isn't metaphorical: Educating teachers in the age of school shootings. In S. Bickmore, G. Rumohr-Voskuil, & S. Shaffer (Eds.), Teaching beyond fear: Arming teachers with words, stories, and power (pp. 125-131). Routledge.
Other