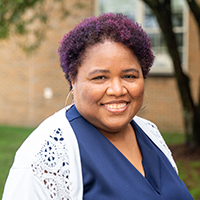 Associate Professor
Early, Elementary & Reading Education
Joi DeShawn Merritt is an Associate Professor of Science Education at James Madison University. Dr. Merritt received her BS in Engineering (Chemical Engineering) from the University of Michigan, Ann Arbor. Prior to returning to the University of Michigan and receiving her Ph.D. in Educational Studies (Science Education), Dr. Merritt was a high school chemistry and physics teacher in Charlotte, NC. Her areas of expertise and research focus on: (a) designing science and engineering curriculum materials and assessments to investigate P-20 student learning, and (b) preparing teachers to teach science equitably in the inclusive, culturally and linguistically diverse classroom. Her work has been funded by the National Science Foundation, Department of Education and College of Education internal grant funding. She has authored or co-authored a book, several book chapters and journal articles.
Dr. Merritt serves on the leadership council of the Science Educators for Equity, Diversity and Social Justice (SEEDS), where she previously served as Chair of the Membership and Communications (M&C) committee. She also serves as membership chair of the Virginia Chapter of the National Association for Multicultural Education. Dr. Merritt is chair of the College of Education Diversity Council, serving as a member of the Diversity Council's subcommittee on Diversity Issues in the Field and is founder and co-advisor of the Future Teachers of Color (FToC) student organization. She is a Gilliam Center Entrepreneurship Faculty Fellow (EFF), co-editor of the Journal of Virginia Science Education and task force member for the American Society of Engineering Education/National Academies of Engineering, NSF funded "Engineering the Inclusive Mindset for the Future: A Blueprint for Systemic Change in Engineering Education."