Dr. Robbie Higdon: Associate Professor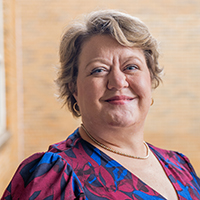 Professor
Middle Secondary & Mathematics Education
Academic Degrees:
Doctorate of Philosophy in Curriculum and Instruction, May 2017, Clemson University, Clemson, SC
National Board Certified Teacher, Early Adolescence/Science, November 2001
Masters of Education in Secondary Education, August 1995, James Madison University, Harrisonburg, VA
Bachelor of Arts in History cum laude, May 1994, Furman University, Greenville, SC
South Carolina Certifications Held in Middle Level Science, Secondary Social Studies, Secondary School Principal and Supervisor, Gifted/Talented endorsement
Professional Interests:
Pre-service teacher identity formation
Early career field experiences of pre-service teachers
Recruitment and retention of STEM teachers
Impact of study away immersive experiences on pre-service teacher identity
Outreach activities for K-8 in STEM
Dr. Higdon teaches undergraduate courses in general instructional methods for grades 6-12 and coordinates a field placement experience within the AVID programs in Harrisonburg City Schools. She serves as the co-advisor for the JMU chapter of the National Science Teachers Association and co-advisor for the ROOP Residential Learning Community for Education. Currently, Dr. Higdon co-directs the College of Education Northern Ireland Cross-cultural Field Experience in partnership with schools in Newry, N. Ireland taking JMU students to live and engage with the local community during Maymester.
Prior to coming to James Madison University, she worked as a graduate research assistant at Clemson University during which time she collaborated with Inquiry in Motion, a professional development initiative for middle school science and math teachers from several school districts within the upstate of South Carolina. She supported teachers at eight school sites in developing inquiry-based lessons, examining their instructional practice, and analyzing student work. She also worked for over fifteen years in public school systems within the upstate of South Carolina as a middle school teacher, department chair, program coordinator, and administrator.