Dr. Mary Beth Cancienne: Professor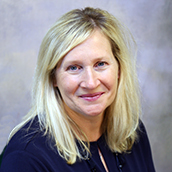 Mary Beth Cancienne, Ph.D., Professor of English Education
Office: Memorial Hall 3240
Email: cancieme@jmu.edu
Resume
Mary Beth Cancienne, PhD, is professor of English education at James Madison University in the Middle and Secondary Education Department in the College of Education. She was honored in 2017-2018 as the Distinguished Teacher and in 2011- 2012 as the Madison Scholar. She teaches courses in high school English methods and accompanying high school practicum, Curriculum and Co-Curriculum, Foundations of American Education, student teaching, and seminar. In 1999, she cofounded the Arts and Inquiry in the Visual and Performing Arts in Education SIG with the American Education Research Association. She has also published in such academic journals as the Virginia English Journal, Qualitative Inquiry, Theory into Practice, the Journal of Curriculum and Teaching Dialogue and the Journal of Curriculum Theorizing. Her chapters appear in such books as the Handbook of the Arts in Qualitative Research (2007) and Knowing Differently (2008). Additionally, she co-edited, with C. Bagley, a book and CD-ROM titled Dancing the Data (2002, Peter Lang).
Dr. Cancienne's google scholar page.
Recent Refereed Publications
Cancienne, M.B. (2018). Embodying Macbeth: Incantation, visualization, improvisation, and characterization. In C. A. Mullen (Ed.), Creativity under duress in education: Resistive theories, practices, and actions (pp. 361-381). New York: Springer.
Cancienne, M.B. (2018, Winter). Reflections of an English methods professor: Storying six years of course development and revisions. Virginia English Journal, 67(2), 42-49.
Cancienne, M.B. (2017, Winter). This I believe II: Teaching English methods. Virginia English Journal 66(2), 4-13.
Cancienne, M.B. (2016, Summer). Movement, visualization, and drawing to inspire pre-writing within the writing process: Strategies as a precursor to personal writing. Virginia English Journal 66(1), 4-12.
Cancienne, M.B. (2014, Spring). Synectics I: A metaphor-centered strategy for writing poetry and prose. Virginia English Journal, 64(1), 55-59.
Cancienne, M.B. (2013, Spring). Teaching spirituals in the American literature classroom. Virginia English Journal, 63 (1), 41-45.
Cancienne, M.B. (2012, Winter). Teaching English methods: What I believe. Virginia English Journal, 61(2), 5-11.
Lopes-Murphy, S. A., Frazier, C. H., Cancienne, M.B., & Wightman, W. (2011). The creative arts and second language development. The Journal of the Imagination in Language Learning, (9), 181-186.
Education
University of Virginia, Ph.D. in Curriculum and Instruction
Louisiana State University, M.Ed. in Curriculum and Instruction
Louisiana State University, B.A. in English
Courses Taught at JMU
MSSE 570: Content Area Methods of Teaching in High School: English 9-12
MSSE 571: Content Area Field Experiences in High School: English 9-12
MSSE 607: Middle and Secondary School Curriculum and Co-Curriculum
MSSE 650: Internship Seminar
MSSE 675: Internship (Student Teaching) in Middle and Secondary Education
EDUC 300: Foundations of American Education
Professional Interests
Movement and Thought in English Education Methods
Diversity, Social Justice, & the Arts in English Education
Pre-Service Teacher Education
Curriculum and Instruction
Service
What Sustains Us (Advisory Chair since 2011)
Co-Founder of the Arts & Inquiry in the Visual and Performing Arts in Education SIG at AERA (since 1999)
NCTE/CAEP Accreditation SPA for English Education
Virginia Association of Teachers of English Board Member (2010-2012)
Chair of the College of Education Diversity Committee (2010-2013)
Departmental Personal Advisory Council
Teacher Work Sample Committee