Effective marketing professionals are essential for organizations to reach their sales goals and potential in the competitive and customer-oriented marketplace.
Marketing is an ideal field of study if you want an action-oriented, challenging and in-demand career where you will be creatively solving problems with innovative ideas supported by data analysis techniques. As a JMU marketing major, you will be concerned with building long-term relationships and co-creating value with customers, clients, partners and society at large.
Your marketing studies will focus on the traditional sales and digital marketing skills needed to be prepared for diverse opportunities. An emphasis on factual and conceptual knowledge, problem solving and communication is paired with experiential learning and the use of information technology to develop expertise valued in a variety of business settings and industries.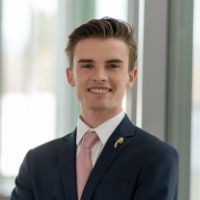 "The Marketing Department at JMU does an amazing job spurring employee engagement with students that lead to practical and applicable internships which help guide students into full-time careers."
John McGrinder ('22), marketing major