A minor in business analytics prepares you to solve complex decision-based problems in a business environment with quantitative skills and hands-on expertise in current software applications. By using statistical methods, management science techniques and mathematical modeling, you'll forecast the implications of various choices and identify the best alternatives.
---
This page is not intended as a substitute for the catalog.
Please consult with your advisor and the catalog for the year in which you were admitted.
---
Applications for the BSAN minor are due on October 15th, March 15th and July 15th.
---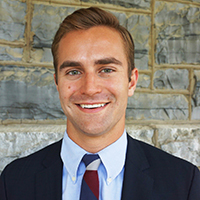 "A month ago, I was given the opportunity to start a new role supporting Carlyle's Chief Digital Officer, who is focused on Digital Transformation at our portfolio companies. My BSAN classes gave me a fundamental understanding of data analysis, and applied data science / AI / ML that was key in securing this opportunity. I would not be where I am today without the things I learned from the BSAN professors!"
David Vaughn JMU ('17),Finance major, CIS and BSAN minor
---
The BSAN minor is open to students in all majors. Admission to the BSAN minor is based on student's performance in the following four competency areas: calculus, statistics, management science and economics.
Students seeking to add the BSAN minor must submit an application by October 15th and will be admitted as a cohort each fall to start the BSAN program in the spring. A student must be able to take the 300-level BSAN courses on a schedule of one per semester in a three-consecutive semester period.
A complete application to the minor includes the following:
A completed BSAN minor application form
A letter of recommendation from COB 291 instructor
Prerequisite competency courses for admission:
One introductory calculus course (MATH 205, MATH 231, MATH 235, ISAT 151 or equivalent)

One statistics course (COB 191, MATH 220, MATH 285, MATH 318, ISAT 251 or equivalent)

One introductory management science course (COB 291 or equivalent)*
One economics course (ECON 200 or ECON 201)
*COB 191 and MATH 205 or equivalent are prerequisites for COB 291.  A grade of "B-" or higher in COB 291 (or equivalent) and junior or senior standing are prerequisites for taking the subsequent required courses (BSAN 390, BSAN 391 and CIS/BSAN 393) in the business analytics minor.
Students may use transfer and/or college credits that have been accepted by JMU to meet competency requirements. Admission is based on an average of a student's highest grades in one course from each competency area and the letter of recommendation. Only grades earned at JMU and verified by the Registrar will be used; transfer transcripts will also be reviewed. More emphasis will be placed on grades than on the recommendation letter. Following review by the BSAN Admission Committee, students will be notified about their acceptance into the minor. If accepted, students will be eligible to register for BSAN courses.
BSAN 390 - Statistical Modeling for Business Analytics
BSAN 391 - Decision Modeling for Business Analytics
BSAN 393 or CIS 393 - Data Mining for Business Analytics
View BSAN COURSES in catalog.
CIS 463 - Business Intelligence
CS/ISAT 344 - Intelligent Systems
ECON 385 - Econometrics
FIN 475 - Financial Modeling and Risk Analysis
MATH 322 - Applied Linear Regression
MKTG 482 - Marketing Analytics
View BSAN COURSES in catalog.
Declaration Process
After acceptance into the minor program, students in good academic standing should submit a declaration of minor request via MyMadison.
Graduation Requirement
The BSAN minor requires a minimum 2.0 GPA for graduation on all courses completed at JMU. Transfer credit is not calculated in the GPA.