Dr. David Kirkpatrick, Interim Executive Director
Dr. David C. Kirkpatrick (PhD, University of Edinburgh) is the interim executive director of the Madison Center for Civic Engagement and an associate professor in the Department of Philosophy & Religion. Prior to JMU, Dr. Kirkpatrick completed his postdoctoral fellowship at Florida State University (2016-2018) and was a teaching fellow at the University of Edinburgh (2015-2016). Dr. Kirkpatrick is an accomplished historian who has written or co-edited multiple books that explore the intersections of politics, religion, and social movements—with the University of Pennsylvania Press (2019), Rutgers University Press (2022) and his current book project with Oxford University Press (expected in 2023). This book, Blood and Borders, explores how stories and images of religious violence shaped voting constituencies and participation in the U.S. public square. Dr. Kirkpatrick has given lectures at the University of Oxford, Dartmouth College, University of Cambridge, Yale-Edinburgh Consortium, Princeton Theological Seminary, Marquette University, among many others. He also enjoys producing research with scholars from around the world—most recently at the Obama Institute for Transnational American Studies in Germany, funded by the German government (UNC Press, 2022), at Dartmouth College funded by the Leslie Center for the Humanities at Dartmouth (University of Pennsylvania Press, 2023), and at Wolfson College at the University of Cambridge. Dr. Kirkpatrick's research speaks to the increasing diversity of the U.S. voting public, how religion impacts political discourse and engagement, as well as the diversity and importance of Latino communities in the United States.
At James Madison University, Dr. Kirkpatrick teaches a variety of courses on religion and politics in the Americas, as well as the Civil Rights Movement. He is passionate about identifying and amplifying the wonderful work of his colleagues and working to create new avenues for public engagement and the common good.
Dr. Kara Dillard, Interim Associate Director
Dr. Kara Dillard comes to the Madison Center for Civic Engagement with 15 years of experience researching, teaching and professional practice in the deliberative democracy and public engagement fields. She is currently an Assistant Professor in the School of Communication Studies, is a Co-Director at the Institute for Constructive Advocacy and Dialogue and holds a Research Associate appointment in digital deliberation with the Charles F. Kettering Foundation.  
Dr. Dillard's current research focuses on innovations in civic-oriented design-built technology, specifically examining the behavioral and attitudinal effects of facilitated public deliberative dialogue in online spaces. Her research has been featured in Journal of Applied Communication Research, Journal of Political Science Education, and the International Journal of Communication. She's given invited talks on facilitation and innovations in student online deliberation for Campus Compact, International Association for Public Participation, National Coalition for Dialogue and Deliberation, and the popular international podcast Facilitating Public Deliberations. She serves as a curriculum program coach and in assessment design for the Interactivity Foundation's Collaborative Discussion certificate program. Most recently, she built large-scale data visualizations as part of the City of Harrisonburg's recent $23 million pandemic relief fund public input process, making data about civic engagement transparent and actionable. As a AASCU American Democracy Project Civic Fellow for the 2022-2023 year, she'll focus on mapping the civic-deliberative technology landscape and integrating the most useful and dynamic software into expanding the National Week of Deliberation initiative, which will be housed at the Madison Center.  
She holds B.A. and M.A. degrees in communication studies and earned a PhD in political and rural sociology from Kansas State University. Outside of the office, Kara is an avid runner, sports enthusiast, sometimes cyclist, and mom to two kids and a dog. She moved to Harrisonburg after living almost all of her life west of the Rocky Mountains.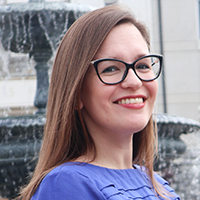 Logan Zeigler, Program Coordinator
Logan is the program coordinator for the Madison Center where she supports the mission and programming of the department. She is a graduate of Mary Baldwin College (now University) where she studied International Relations. Logan previously worked in JMU Student Affairs within the University Career Center (UCC), where she provided guidance on recruiting best practices to students and employers. During her time in UCC, Logan served as the department's liaison to SOGIE Programming and stayed up to date on legislation impacting the LGBTQ community to inform student programming and employer education. Combining her expertise in employment legislation with her dedication to supporting students, Logan conceptualized and co-presented programs such as Career Decision-Making with a Queer Lens. This dedication to LGBTQ rights resulted in Logan's nomination to the JMU SOGIE Advisory Board where she continues to serve as a representative of the Madison Center. Logan is an advocate for accessible and inclusive practices at JMU and has a strong commitment to equity and social justice. She recently won the College of Arts and Letters Staff Recognition Award in spring 2022. 
Gabby Leija-Hernandez, Woodson Martin Democracy Fellow
Gabriela (Gabby) Leija-Hernandez is the 2022-2023 Woodson Martin Democracy Fellow. Gabby holds a B.A. in Political Science with a minor in Nonprofit Studies from James Madison University (JMU). She is a past recipient of the Washington Semester Scholarship, where she interned in D.C. with Lachman Consultants, working in nonprofit and government management. She has also worked in immigration law, JMU SGA, and 4-H.
Gabby is originally from Harrisonburg where she was born in what we now call the Student Success Center at JMU! Gabby spent a lot of her time at and after JMU emphasizing her interests in advocacy efforts pertaining to immigration, diversity, human rights, and more.
Angelina Clapp, Graduate Assistant
Angelina Clapp is the Graduate Assistant for JMU Civic. She is currently pursuing a Master's in Public Administration at JMU and received her bachelor's degree in Political Science from JMU in 2020. She spent the past three years working with the Center and is passionate about civic engagement.