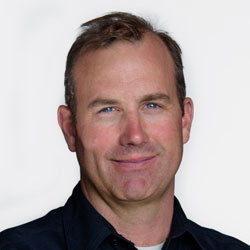 Matt Carr
Matt Carr grew up in Richmond, Virginia where enjoyed playing soccer and lacrosse during high school. Other interests that he he pursued were a little non traditional for a suburban upbringing in the south at the time but proved valuable later in life, fly fishing and skiing. Matt attended James Madison University were he graduated cum laude as a history major in 1993. He was heavily involved  with his fraternity, Pi Kappa Phi, and served as a part of the leadership there including being president. It was several fraternity brothers that talked Carr into moving to Jackson Hole, Wyoming for work during the summer of 1992. The original plan was to stay a year in Jackson and then head off to law school. That plan is now 26 years old.
Matt first became involved with emergency service in the late 1990's when he volunteered for Teton County Emergency Medical Services as an EMT. This sparked an interest that lead to joining the Teton County Sheriff's Office in 1999. Matt has worked in or supervised every department of the Sheriff's Office including detention, patrol, investigations, court security, and search and rescue. In 2018 Matt ran for and was elected Teton County Sheriff. He is also a proud member of Teton County Search and Rescue Team. Sheriff Carr runs an office of nearly 70 employees and strives to meet the Teton County Sheriff's Office mission statement of being, "the foremost leader in excellent public service in the State of Wyoming." Matt lives at the base of Jackson Hole Mountain Resort in Teton Village with his two children, Tucker (15) and Lauren (11).
Jamie Lockhart
Jamie Lockhart has a decade of professional experience in nonprofits, organizing, and public policy. Most recently, she served as National Director of Mission: Readiness, a nonprofit organization of over 700 retired admirals and generals strengthening national security through evidence-based investments in children. Prior to joining Mission: Readiness, Jamie was recruited for campaigns in the Commonwealth of Virginia, including President Obama's 2012 re-election. Previously, Jamie worked on Capitol Hill as a Legislative Assistant and Director of E-Communications. Jamie, a native of Midlothian, Virginia, graduated magna cum laude from James Madison University with a Bachelor of Arts in Political Science and a Master in Public Administration from the John F. Kennedy School of Government at Harvard University. She is a certified group fitness instructor and triathlete.
Elizabeth Vickrey Lodal
During Elizabeth Lodal's almost forty year career in public education, she taught history and English and served as Principal of: The Thomas Jefferson High School for Science and Technology (named top US High School during her tenure), McLean High School, Langston Hughes Middle School, and Joyce Kilmer Middle School, all Fairfax County Public Schools in Virginia. Among her honors, Ms. Lodal received The George Washington University Graduate School of Education and Human Development Outstanding Alumni Achievement Award in 2018 and was the graduation keynote speaker. She was named the 2005 Virginia Educator of the Year Award by the American Association of University Women, the 1998 Rice University Distinguished Alumni Award, and the 1993 Rabbi Richard Sternberger Social Justice Award by Temple Rodef Shalom for combating racism, bigotry and prejudice in Northern Virginia. The Fairfax County School Board has named both the McLean High School Library and the TJHSST College and Career Center after her in recognition of her contributions.  She has received commendations from the Fairfax County Board of Supervisors, the Virginia General Assembly, and the United States Congress for her achievements in public education.
Elizabeth Lodal currently serves on the Virginia Board of Education (appointed by Governor McAuliffe for 2015-2019), as Chairman of the Board of the Urban Schools Human Capital Academy (training Urban Public School Administrators to hire effective Principals and Teachers). She is a member of the Board of Trustees of WETA Public TV and Radio which serves the Washington, D.C. metropolitan area. She also serves on the Virginia State Board of Directors of Communities in Schools. She previously served on the Board of Visitors of James Madison University (2008- 2011) and as a Virginia Commissioner on the Education Commission of the States, appointed by Governor Tim Kaine (2006-2010). She has also served on the Advisory Boards of the Smithsonian Science Education Center (8 years); the Boards of Trustees of The American Boychoir School (20 years); and as a Trustee and Chairman of Education for the Washington National Opera (15 years). 
Ms. Lodal holds a BA in History from Rice University and an MA in Secondary School Administration from The George Washington University.  She is married to Jan M. Lodal, founder of three Virginia technology companies, a national security expert, former President of the Atlantic Council, and former member of the Board of Overseers of The Curtis Institute of Music, the Board of the Washington Chorus, and a Trustee of the National Symphony Orchestra.  They have two children: Eric, who is a screenwriter, and Kirsten, who is co-founder & former CEO of LIFT, a national poverty alleviation non-profit. The Lodals have 4 granddaughters.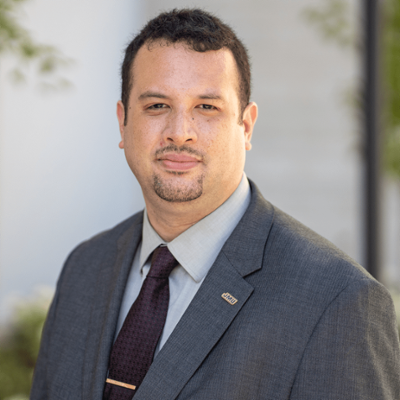 A. Raleigh Marshall
A. Raleigh Marshall graduated from JMU in 2005 earning a Bachelor of Science in Computer Science and minoring in both Telecommunications and Management Science. While at JMU he served as President of the Tae Kwon Do club, Social Chairman of the Zeta Beta Tau fraternity (Zeta Omega chapter) and was a Representative in the Student Government Association. As a youth, Mr. Marshall achieved the rank of Eagle Scout with 4 palms, and earned Brotherhood membership with the Order of the Arrow.
Since graduating, Mr. Marshall has spent the bulk of his career supporting the US Department of Defense (DoD) in various technical and leadership roles. Mr. Marshall currently works for Microsoft Corporation as a Premier Field Engineer. Outside of work he is active in the community serving as the founder and chief instructor of the Okinawa Kenpo Kenyukai Fairfax branch club, as well as supporting community betterment organizations such as The Pearl Coalition.
Mr. Marshall has a unique relationship with JMU as he is a direct descendant of Paul Jennings, who was the enslaved personal valet to President James Madison for decades until Madison's death in 1836.
Arthur Moats
Former Pittsburgh Steelers linebacker and 9 year NFL Veteran, Arthur Moats, is from Portsmouth, Va and is a two-time nominee for the NFL's Walter Payton Man of the Year Award, with the Buffalo Bills and the Pittsburgh Steelers, for his volunteer and charity work in the community. In 2013, he was the Buffalo Bills' recipient of the Ed Block Courage Award which is given to a NFL player from each team who exemplifies the commitments to the principles of sportsmanship and courage. He received his Bachelors Degree in Political Science at James Madison University and later received his Masters Degree in Community and Economic Development at Empire State College while continuing his professional playing career. While at JMU, Arthur was named the 2009 FCS Buck Buchanan Award Winner, which is given to the top FCS defensive player in the Nation. He recently wrote the book "The Moats Theory Of Life" which is a guide to helping people become more impactful and inspirational. He and his wife, Shonda, support JMU Athletics and have established an endowment scholarship in the studio arts. Arthur and his family are committed to positively impacting the various communities they hold dear to their heart. This can be seen through their philanthropic work with the Ronald McDonald House Charities of Pittsburgh and Morgantown, where Arthur has sat on their board since 2016.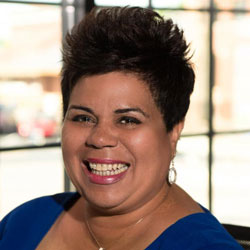 Harrisonburg Mayor Deanna Reed
Mayor Deanna Reed was sworn into office for Harrisonburg City Council on January 3, 2017, and then selected by her fellow council members as mayor for two terms. Becoming mayor of Harrisonburg made her the first African American female mayor in Harrisonburg's history. Although this is her first public office, she is no stranger to Harrisonburg and its people. Mayor Reed is a native of the city and is a proven leader, impacting the lives of those of all ages.
Mayor Reed is invested in this community, a place she has always called home and is committed to keeping Harrisonburg an excellent place to live, work, and visit. She works toward fostering partnerships with a variety of community groups with the goals of trust and transparency within these relationships.
Mayor Reed currently serves as the program director for On the Road Collaborative, a non-profit youth empowerment organization that serves more than 300 middle school and high school youth annually. On the Road Collaborative, helps to set students on the road towards high school, college and successful careers. Previously,
Mayor Reed was the co-founder and director of Precious Gems Academy, another youth empowerment organization. In the summer of 2014, Mayor Reed created an original summer enrichment program for the Roberta Webb Childcare Center, which included a camp and community musical.
Beyond her leadership and achievements serving the youth, Mayor Reed has 20 years of experience in retail merchandising and community development initiatives. For over 32 years, Mayor Reed has served as a member of Delta Sigma Theta Sorority Inc. and has served on the advisory team for the Iota Alpha Chapter of Delta Sigma Theta Sorority at James Madison University.
Recently, Mayor Reed was honored as one of the Strong Men and Women of the state of Virginia. She was featured in Essence Magazine on the top 100 WOKE list. She was recognized by Harrisonburg-Rockingham County Commonwealth Attorney Marsha Garst as Citizen of the Year in 2015. She was also the recipient of the MLK Community Service Award and the Northeast Neighborhood Community Service Award.
Mayor Reed continues to hold numerous offices within several community organizations. She serves as council representative on the Downtown Parking Committee, Metropolitan Planning Organization (Policy), Social Services Advisory Board and Parks and Recreation Commission. She is currently the Board Advisor of the Harrisonburg Women's Service League and Trustee of Newtown Cemetery.
Mayor Reed remains passionate in her work to enrich the lives of youth in her community.
Russ Reeder, Advisory Council Chair
Russ is a 25+ year tech and branding exec. His hi-tech background ranges from start-up ventures to Fortune 500 giants like Oracle and his first programming job at Mobil Oil. Russ has managed high-growth global organizations that have transformed industries and consistently drives customer centric performance and innovation at scale.
Prior to Intuition Equity, Russ helped bring the largest European cloud hosting company to the US, OVHcloud. Before working with OVH, Russ helped startup a big data civic engagement social network and polling platform, icitizen. By enabling everyone's voice to be counted, icitizen brought accountability to elected officials and increase civic engagement. Prior to that, Russ led the premium cloud hosting company, Media Temple (mt), where he was responsible for the company's brand, strategic direction, culture, and operational execution. Russ also led the sale of Media Temple (mt) to GoDaddy where he stayed on the GoDaddy executive team to help transform GoDaddy and prepare for their IPO.
Before Media Temple (mt), Russ led the growth of LibreDigital, the leader in digital publishing, and helped run the process to sell RR Donnelley. Russ also led NxTV to the forefront of the direct to consumer Internet TV and Internet video-on-demand. Russ started his management career at Oracle where he helped lead and grow Oracle Applications Group for companies over $1 billion in revenue.
Throughout his career and his life beyond business, Russ has been an attentive student of change and innovation. He sees the best opportunities as disruptive -- the very best ones as those that promise to increase efficiency in large markets and improve lives. He continues to hone and apply a leadership philosophy first inspired by his grandfather and then his professional mentors. He owes much to his experiences as a dad, a triathlete and, simply enough, a human being just trying to do a better job whatever the challenge happens to be. More than anything, Russ is committed to helping others live happier, more productive lives. 
Read about his leadership philosophy on his blog.
Even 25 years ago… Graduate and Commencement Address speaker, James Madison University (JMU)
Ian Simmons
Ian Simmons is Co-Founder and Principal of Blue Haven Initiative, where he oversees a portfolio focused on investments that generate competitive financial returns and address social and environmental challenges. This portfolio spans asset classes, including private and public equity, fixed income, direct investments, alternative investments and philanthropic programs.
A champion and practitioner of impact investing for two decades, Ian advances Blue Haven's investment, research and policy strategies. He is particularly passionate about pursuing solutions to complex challenges, such as clean energy and affordable housing. Ian also advocates for policies that facilitate long-term investing and promote corporate and political transparency and accountability.
Committed to initiatives and corporations that advance investing and strengthen democracy, Ian is the President of the Foundation for Civic Leadership and Chair of the Youth Engagement Fund. Ian serves on the board of directors of the U.S. Impact Investing Alliance, Social Finance, Issue One, Organizing for Action, the National Advisory Board for Public Service at Harvard College, and Karibu Homes, an affordable-housing company in Kenya.
Ian graduated with honors from Harvard College in 2000. He lives in the Boston area with his wife, Blue Haven Co-Founder Liesel Pritzker Simmons, and their daughters.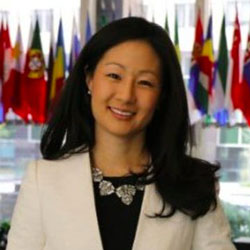 Jennifer Park Stout
Jennifer Park Stout is Vice President of Global Public Policy and head to the Washington, DC office of Snap Inc., maker of the camera application Snapchat and Spectacles.
Jennifer served 18 years in the U.S. government including serving as Deputy Chief of Staff to Secretary of State John F. Kerry, Special Assistant to President Barack Obama in the White House Office of Legislative Affairs, Chief of Staff to the Under Secretary of State for Public Diplomacy and Public Affairs, and Deputy Assistant Secretary in the Bureau of East Asian and Pacific Affairs in the State Department.
Form 2012 to 2013 as Vice President of International Government Relations for MetLife, Jennifer led government and industry relations and international business segments in the Asia Pacific region. 
Earlier in her career, Jennifer spent 11 years on Capitol Hill working for a number of Members of Congress including then-Senator Joseph Biden, Senator Patrick Leahy, Senator Jim Webb, and Representative James Moran. 
Jennifer holds a M.A. in International Affairs from George Washington University and a B.A. from James Madison University. She was appointed to the Board of Governors of the East-West Center. She lives with her husband and two daughters in Virginia.
Doug Trout
Doug Trout is a Managing Director at DRi Consulting, a Forbes top 50 executive search and recruiting firm. Prior to joining DRi, he was the acting President of the Montpelier Foundation. Previously he served as Executive Vice President where he oversaw budget and finance, fundraising, events, and other aspects of the organization. Prior to joining Montpelier, he served as Executive Director of the Miller Center Foundation at the University of Virginia where he led funding strategy, endowment management and finance. The Miller Center is a nonpartisan affiliate of the University of Virginia that specializes in presidential scholarship, public policy, and political history.
Prior to joining the Miller Center in 2012 he served at the Jefferson Scholars Foundation for nearly a decade, most notably as Director of the Graduate Fellowship Program from 2005 – 2012.  Prior to joining the Foundation he worked for the University of Virginia's Center for Politics where he served as Director of Development.  He worked for six years in a number of capacities for Presidential Classroom including Program Manager before coming to UVa in 1999.
Doug graduated from James Madison University in 1993 with a Bachelor of Science in Political Science and a minor in Economics. He took his Masters degree in Public Administration from George Mason University in 1997 with a focus in public and non-profit management.
Doug currently serves as a board member and on the Executive Committee for Madison House, UVa's student volunteer organization. He serves on the advisory committee for the University of Richmond's Customer Experience Program Certificate as well as on the Boars Head Sports Club membership committee. He is a former board member of the Montpelier Steeplechase and Equestrian Foundation. He is a former member of the Virginia Higher Education Foundation CEO Consortium. He previously served on the Executive Committee for the Charlottesville Catholic School Board, and was President of the Virginia Association of Fundraising Executives.