Global Climate Change Week
Global Climate Change Week aims to encourage academic communities – including academics, students, and non-academic staff at universities in all disciplines and countries – to engage with each other, their communities, and policy makers on climate change action and solutions.
Global Climate Change Week @JMU is October 12-21, 2020. Join the conversation on Instagram and Facebook using #JMUClimate Justice and #GCCWeek.
Join us for the events below to learn more about climate change, climate justice and what you can do to create a more just and sustainable world! 
Global Climate Change Week @JMU is organized by Justice Studies Assistant Professor Dr. Case Watkins and students in his Fall 2020 Environmental Justice course.
For more information, email climatejustice@jmu.edu.
Feature Film Screening & Discussion
Register here to join us Wednesday, October 21, 2020 at 7:30 p.m. for The Condor and the Eagle
Join us for a public screening of the award-winning documentary The Condor and The Eagle, followed by an interactive discussion with Casey Camp-Horinek, Indigenous leader, protector, and activist featured in the film.
The Condor and The Eagle follows four Indigenous leaders on an extraordinary trans-continental journey from Canada's boreal forests to the heart of the Amazon. Placing Indigenous women at the forefront of the response to climate change, the film connects global movements for climate justice with ancestral legacies of resistance to colonialism and its extractive economies.
Councilwoman and Hereditary Drumkeeper of the Womens' Scalp Dance Society of the Ponca Nation of Oklahoma, Casey Camp-Horinek is a longtime activist, environmentalist, actress, and author. Because of her work the Ponca Nation is the first Tribe in the State of Oklahoma to adopt the Rights of Nature Statute, and to pass a moratorium on fracking on Tribal Lands. Casey was also instrumental in the drafting and adoption of the first International Indigenous Women's Treaty protecting the Rights of Nature. She often collaborates with I.E.N, Movement Rights, and W.E.C.A.N.
Special thanks to our generous sponsors! Earth Day Network; Sustainable Shenandoah Valley; Shenandoah Group of the Sierra Club; the Department of Justice Studies; JMU Civic; the Mahatma Gandhi Center for Global Non-Violence; African, African-American, and Diaspora Studies (AAAD); and Latin American, Latinx, and Caribbean Studies (LAXC).
Film Screenings and Discussions
Join us for screenings of the following films, with brief student-led discussions to follow. Admission is free, but all participants must register in advance. Links for film registration available soon.
Monday, October 12, 2020 at 7:30 p.m.: The Hottest August
Register to join us for The Hottest August.
Wednesday, October 14, 2020 at 7:30 p.m.: Cooked: Survival by Zip Code
Register to join us for Cooked. 
Sunday, October 18, 2020 at 7:30 p.m.: 1.5 Stay Alive: Climate Change and Caribbean Music
Register to join us for 1.5 Stay Alive.
Listening to Action
As part of Global Climate Change Week encouraging academic communities to engage with each other, their communities, and policy makers on climate change action and solutions, in this episode of Democracy Matters, Dr. Case Watkins and Dr. Carah Ong Whaley talk with Tom Benevento, co-founder of Vine and Fig about the 50 By 25 campaign working toward a clean, just energy transition in Harrisonburg.
Moving on Global Climate Change
A conscience compilation to inspire action on global climate change. This Spotify playlist was created by the SOWK 487  Power of Music in Social Work class at James Madison University.
Workshops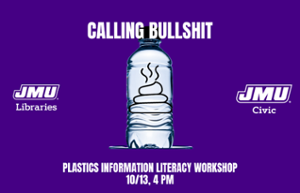 Tuesday, October 13, 4 p.m.
Are plastics killing Nemo? Do plastics cause cancer? Join SMAD, JMU Libraries and JMU Civic to learn and practice science information literacy skills focused on evaluating science and information on plastics and their health and environmental impacts.
As part of this workshop, students will develop a better understanding of and practice: 
how to find information in library databases

search strategies 

evaluating information

using primary source materials in research

methods for determining the political and corporate biases and interests behind sources of information
Facilitators: SMAD Assistant Professor Ryan Alessi, JMU Libraries Assistant Professor and Science and Math Librarian Alyssa Young; JMU Civic Associate Director Dr. Carah Ong Whaley; SCOM Assistant Professor and Co-Director of Debate Dr. Michael Souders; and SCOM Assistant Professor Dr. Kara Dillard.
Register in advance here.
Wednesday, October 14, 2020 3:00 p.m.
Join Virginia Clean Cities for a discussion of the role of transportation in greenhouse gas emissions and options for addressing them. This engaging webinar is being offered to commemorate the 1/2 Year celebration of Digital Earth Day! Taking on Transportation Emissions event is brought to you by Virginia Clean Cities and the Earth Day Network. Register here.
Factfulness and Climate Change, Thursday, October 15, 2020 4:00 p.m.
This informal program organized by JMU Honors College will feature an Honors alum with professional experience doing research relating to climate change, Dr. Craig Ramseyer ('09), Assistant Professor of Geography at Virginia Tech.  Dr. Ramseyer's primary area of research focuses on tropical rainfall and how climate change is likely to change drought and flooding. 

Join this Zoom session to hear our panelist's views of cultivating a factful mindset and how factfulness helps him in his efforts to understand and counteract global climate change. Please RSVP to receive your Zoom log-in information.