CISE Career and Internship Fair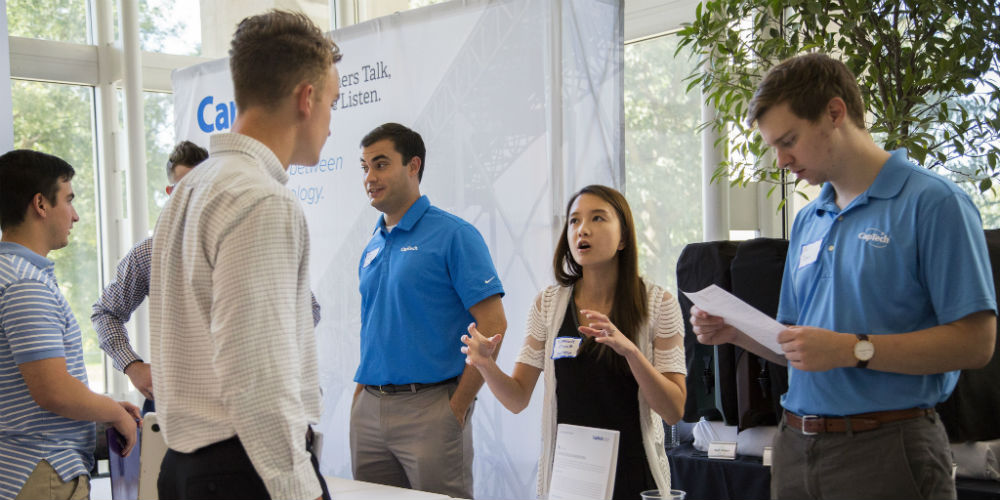 CISE Virtual Career & Internship Fair
Tuesday, February 9, 2021
11:00 a.m. - 3:00 p.m.


The College of Integrated Science and Engineering offers two career and internship fairs - one in September and one in February.
Our fair gives organizations an opportunity to connect with and recruit our biotech, computer science, engineering, geographic science, intelligence analysis and integrated science and technology students. 
Complementing their strong technical background, our students also focus on the human element of STEM and the context in which STEM solutions are implanted in our society and around the globe.  Our graduates stand ready to take on the challenges facing us now and in the future and they're prepared to use their STEM knowledge and toolkit wisely as they enter a variety of professions. 
We will be hosting our Spring 2021 CISE Career Fair using a virtual format through Handshake. This decision was made with the safety of our students and employer partners in mind.
Virtual Platform
We will be using the new virtual career fair platform in Handshake. Please continue to check your email -  we will be sharing further resources to help you and your team adapt to this new format. We appreciate your patience as we learn this new and exciting way to offer virtual career fairs together. 
Fees
Our registration fees will remain the same for our virtual fair.
$600.00 For-Profit Organizations
$200.00 Not-for-Profit*/Government Agencies
$100.00 Charitable Non-Profit Organizations*
*To verify non-profit status, your tax ID will be requested when you register. 
Registration
Log in to our online recruiting platform, Handshake.
Navigate to the 'Fairs' tab on the left and search 'JMU CISE Career Fair.'
Consult the Handshake Help Center's How to Register for a Career Fair instructions for further information.
Our office will review your registration request within 3 business days.
Registration payments are by credit card only. 
Registration is not confirmed until payment has been received. If payment is not received, your spot will be given to another company on the waitlist.
Deadlines
Registration Opens: November 1, 2020

Registration Closes: When all spaces have been reserved
Cancellation Deadlines

100% refund: January 12, 2021
50% refund until January 26, 2021
No refund after January 26, 2021
If the event is canceled by JMU due to weather or other unforeseen circumstances, a full refund will be issued.
Contact
If you have questions about Handshake or registration, please contact Lindsey Scott at marti2le@jmu.edu or 540-568-6555.
If you have questions regarding logistics, please contact Lyn Chandler at chandllc@jmu.edu or 540-568-5557.