CISE Career and Internship Fair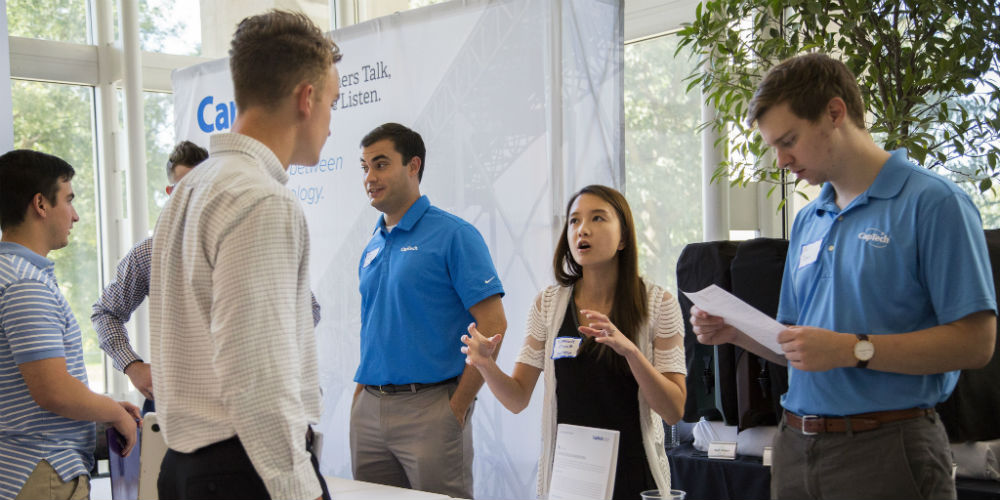 CISE Career & Internship Fair
Wednesday, September 16, 2020
11:00 a.m. - 3:00 p.m.
JMU Festival Conference and Student Center
The College of Integrated Science and Engineering offers two career and internship fairs - one in September and one in February.
Our fair gives organizations an opportunity to connect with and recruit our biotech, computer science, engineering, geographic science, intelligence analysis and integrated science and technology students. 
Complementing their strong technical background, our students also focus on the human element of STEM and the context in which STEM solutions are implanted in our society and around the globe.  Our graduates stand ready to take on the challenges facing us now and in the future and they're prepared to use their STEM knowledge and toolkit wisely as they enter a variety of professions. 
COVID-19 Information
We plan to host our Fall 2020 CISE career fair on campus at this time. We are committed to the safety of our students and employer partners and are creating contingency plans to modify our fairs to accommodate best social distancing practice. Should the situation shift to the point that we cannot safely host fairs on campus, we plan to transition to a virtual format. (Tentative: Organizations would have the option to participate in the virtual format or withdraw their registration and receive a refund should this occur.) 
Schedule
| | | | |
| --- | --- | --- | --- |
| 9-11a | | Check-in, and set up booth | |
| 11a- 3p | | CISE Career Fair | |
*Formal interviews are not part of the Career Fair schedule. Check out our Recruiting Guide to learn more about on-campus interviewing and other ways of connecting with our students during the academic year. 
Fees
$600.00 For-Profit Organizations
$200.00 Not-for-Profit*/Government Agencies
$100.00 Charitable Non-Profit Organizations*
$15.00 Additional Attendees
*To verify non-profit status, your tax ID will be requested when you register. 
DISCOUNT
If you sign up for the CISE Career Fair AND JMU's Career and Academic Planning Career Fair, you will receive a discount of $100 per fair. For more information, contact Aimee Stright at strighac@jmu.edu or 540-568-3457.
Registration
Log in to our online recruiting platform, Handshake.
Navigate to the 'Fairs' tab on the left and search 'JMU CISE Career Fair.'
Consult the Handshake Help Center's How to Register for a Career Fair instructions for further information.
Our office will review your registration request within 3 business days.
Registration payments are by credit card only. 
Registration is not confirmed until payment has been received. If payment is not received, your spot will be given to another company on the waitlist.
REGISTRATION INCLUDES:
Lunch 
One 8x2 foot table (limit one per company)
2 Representatives (Companies may bring up to 4. There is a charge of $15 for each additional person and they must be registered in Handshake.) 
Deadlines
Registration Opens: May 1, 2020

Registration Closes: When all spaces have been reserved
Cancellation Deadlines

100% refund: August 1, 2020
50% refund until September 1, 2020
No refund after September 1, 2020
If the event is canceled by JMU due to weather or other unforeseen circumstances, a full refund will be issued.
Inclement Weather
Please refer to the following if the University is impacted by inclement weather on the day of the CISE Career and Internship Fair:
If the University opens at 10 a.m., the Fair will run as scheduled.
If the University opens at 11 a.m. or later, the event will be canceled. 
If the University closes after the Fair has started, but is less than 2 hours into the event, the event will be canceled and fees will be refunded.
If the University closes two hours after the event has started, the Fair will be canceled and employers will receive a 50% refund.
Cancellation/delay information can be located on the JMU website or by calling 540-433-5300. 
Refunds will not be offered for no-shows. 
Career Fair Day Logistics
MATERIAL DROP-OFF
Materials may be dropped off first by pulling into the Festival Conference Center cul-de-sac (GPS location: 1301 Carrier Drive, Harrisonburg, VA. 22807). Staff will be available to assist you.
PARKING
Park in our new East Campus Parking Deck located directly across from the Festival Conference Center. (After dropping your material off at the Festival, turn left onto Carrier Drive. Turn right at the light. Take your fourth right onto East Campus Drive. Entrance to the parking deck is on your right.) Please do not park in fire lanes, metered spots, or handicapped spaces without proper tags, as this will result in a parking ticket. 
CHECK-IN
Please check-in and pick up your information packet at the registration table. Please note that each member of your group must check-in. 
Shipping your Materials to and from JMU
BEFORE THE FAIR
You may send your materials/display in advance (no earlier than one week prior to the fair) to:
CISE Career Fair c/o Bob Davis
JMU Events and Conferences
1301 Carrier Drive
Harrisonburg, VA 22807
AFTER THE FAIR
Call in your shipment to your Carrier no later than 3 p.m. and arrange your pick-up for 5 p.m. on the day of the Career Fair.
Ask your carrier to pick up materials/display at the main entrance of the Festival Conference and Student Center (1301 Carrier Drive, Harrisonburg, VA. 22807).
Leave your "ready to be shipped" display/materials near the main entrance of the Festival Conference and Student Center. 
JMU is not responsible for any materials/displays remaining after 5:00 p.m. on the day of the Fair.
Contact
If you have questions about Handshake or registration, please contact Aimee Stright at strighac@jmu.edu or 540-568-3457.
If you have questions regarding logistics or parking, please contact Lyn Chandler at chandllc@jmu.edu or 540-568-5557.