The Madison Caucus for Gender Equality updates the historic Faculty Women's Caucus that was initiated in 1973 to address discrimination against women in the JMU workplace. The caucus reaches out to all professional women and men on campus, understanding that gender based workplace bias affects not only women but men and families as well. In the 2011-2012 academic year, dedicated JMU citizens gathered to discuss how we might continue the activism of the original caucus in the 21st century. Please consider joining the Madison Caucus for Gender Equality; there is plenty of work and good community to be shared.
The Mission Statement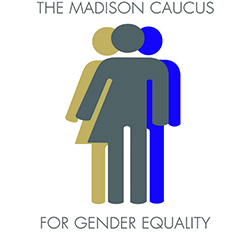 To raise awareness of gender issues across the university
To promote equal opportunities for leadership in offices, programs and units
To foster a family-friendly work environment through effective policies that address not only family leave, but child care, elder care, and partner benefits.
To highlight exemplary policies, programs, practices and individuals in higher education that represent enlightened approaches to balancing career and family demands.

*In order to keep accurate annual records, please fill out your information at the link above regardless of your payment method.*

There are sliding scale annual dues associated with membership. With financial concerns related to COVID-19, we currently also have a Pay What You Will option. Please email us at madisoncaucus@jmu.edu if that is hindering you from joining us!
$35-Salary greater than $50,000
$20-Salary between $30,000-$49,999
$10-Salary under $29,999
$5-Part-time or Emeritus
Pay What You Will