Dr. Sara Finney is the 2021 receipt of the Ford Faculty Endowment for Excellence in Teaching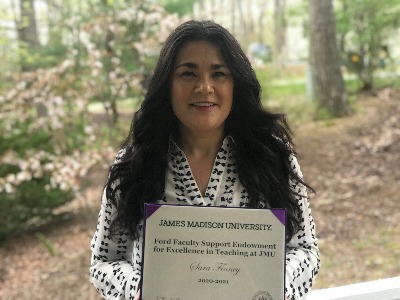 The Ford Faculty Award is granted to a JMU professor to celebrate significant contributions to student learning and development. More specifically, Dr. Finney was recognized for excellence in teaching, scholarship, curriculum development, professional development, and the integration of teaching and research. Sara is a professor in the Department of Graduate Psychology where she teaches courses in multivariate statistics and structural equation modeling. She also oversees thesis and dissertation projects in addition to guiding student research and practicum experiences. Sara has received several teaching and mentoring awards from JMU and professional organizations.
Dr. Finney also serves as the Associate Director for the Center for Assessment and Research Studies. Sara helps colleagues assess student learning and development in order to make valid claims about curriculum and programming effectiveness. She promotes the use of evidence-informed teaching strategies and data-based decision-making. Her work in outcomes assessment has garnered four national awards.
Dr. Finney's research informs her teaching, curriculum development, and professional development initiatives. She has published over 70 articles and chapters, with her graduate students in the Assessment and Measurement PhD program co-authoring over 75% of these publications. Her research involves the incorporation of implementation fidelity evidence during the outcomes assessment process, the study of examinee motivation and emotions during testing, and the application of latent variable modeling techniques to better understand the measurement of psychoeducational constructs. Her research has appeared in such journals as Educational Assessment, Journal of Experimental Education, Assessment and Evaluation in Higher Education, Research & Practice in Assessment, Educational and Psychological Measurement, Applied Measurement in Education, and the Journal of Student Affairs Research and Practice. Sara serves on six editorial boards and is a member of several national organizations related to student learning and assessment.