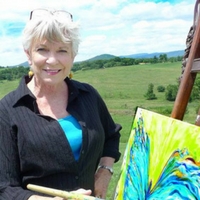 Born in Reidsville, North Carolina, Rebecca Humphrey received a MFA in painting from the University of North Carolina at Greensboro.  Humphrey taught art at James Madison University from 1972 until her retirement in 1999.  She experienced art's healing power early as a child when painting and drawing helped her through an extended period of illness.
Now residing in Linville, Virginia, Humphrey creates works using paper as her medium. Attracted to its relief and collage possibilities, she makes paper from a mixture of ground cotton, other plant fibers and water. Humphrey's strong interest in color is apparent in her low-relief cast works. The artist uses permanent pigments, paints and collage materials to achieve vivid color contrasts. She enriches her pieces texturally by building up layers of collage and often includes found objects in her works.
To visit her website, click HERE.
ARTIST STATEMENT
I employ a variety of media, but my artwork remains largely based in paper. Ground cotton or other plant fibers are mixed with water and placed against bas-relief forms, leaving fossil-like impressions when dry and the forms removed.

I love the way the handmade paper accepts color in both its wet and dry states. My palette is pails of colored pulp ranging from sky-like blues to sunburst yellows.

The tactile qualities of handmade paper and collage nudge me into a playful interaction with my materials. The viewer's eye can enjoy moving over the diverse dimensional surface of the art.

Emotions and ideas drawn from life experiences starting with my childhood in the tobacco town of Reidsville, North Carolina, have always motivated my mixed media art. Studying at the University of North Carolina at Greensboro revealed new passions for modern dance and poetry.


The rhythms, juxtapositions, and visual images I derive from these are strong inspiration for me. All the arts make me think in unexpected directions, allowing me to add to my visual world rather than simply mimic it.



SELECTED SHOWS   
| | |
| --- | --- |
| 2008 | Paperworks, New Elements Gallery, Wilmington, NC |
| 2008 | Beyond Reading, The Suffolk Museum, Suffolk VA |
| 2007 | Duration: School of Art and Art History Faculty and Faculty Emeriti Exhibition,Sawhill Gallery, James Madison University, Harrisonburg, VA |
| 2007 | Artisan Members Exhibition, Artisans Center of Virginia, Waynesboro, VA |
| 2006 | Artist Invites Artist, Middle Street Gallery, Washington, VA |
| 2005 | Small Wonders, Foxhall Gallery, Washington, DC |
| 2005 | 21st Annual Holiday Show, New Elements Gallery, Wilmington, NC |
| 2004 | 50th Anniversary VMRC, Park Gables Gallery, Harrisonburg, VA |
| 2004 | Gallery Artists' Show, New Elements Gallery, Wilmington, NC |
| 2004 | Strong Medicine, The Art Gallery at Eastern Mennonite University, Harrisonburg, VA |
| 2003 | Virginia Creates, This Century Gallery, Williamsburg, VA |
| 2003 | Beyond Reading, Ellipse Arts Center, Arlington, VA |
| 2003 | The Little Gallery, Smith Mt. Lake, Moneta, VA |
| 2003 | Virginia Creates, invitational exhibit at Ellipse Arts Center, Arlington, VA |
| 2003 | Emerald Magic, solo exhibition, 150 Franklin Street Gallery, Harrisonburg, VA |
| 2002 | Art at the Mill, Burwell-Morgan Mill, Millwood, VA |
| 2002 | Gallery Artists' Group Show, Sun's Traces Gallery, Barboursville, VA |
| 2000 | Recent Work, Middle Street Gallery, Washington, VA |
| 1995 | Bridgewater College Gallery, solo exhibition, Bridgewater, VA |
| 1994 | Mid-Atlantic Craft, Towson State University, Towson, MD |
| 1993 | Paperworks, Georgia Institute of Technology, Atlanta, GA |
| 1992 | Earth, Air, Water and Fire:  The Elements, Middle Street Gallery, Washington, VA |
| 1991 | Images '91, Bayview Gallery, Camden, ME |
| 1991 | Valdosta Works on Paper lll, Valdosta State College, Valdosta, GA |
| 1990 | Recent Work in Paper, solo exhibition, The Works Gallery, Philadelphia, PA |
| 1988 | Craft Now:  Breaking Boundaries, Artmobile, Virginia Museum, Richmond, VA |
| 1988 | New Art Forms:  Virginia, Hand Workshop, Richmond, VA |
| 1988 | 20th Dulin National Works on Paper, Knoxville Museum of Art, Knoxville, TN |
| 1988 | Over  the Blue Ridge ll, Roanoke Museum of Fine Arts, Roanoke, VA |
| 1987 | Henley Southeastern Spectrum, Winston-Salem, NC |
| 1987 | Exhibition 280:  Works on Walls, Huntington Galleries, Huntington, WV |
| 1987 | Approaches to Papermaking, Gertrude Herbert Art Institute, Augusta, GA |
| 1986 | Color:  The Spectrum of Expression, NC State University, Raleigh, NC |
| 1986 | Paper Works:  Seven Perspectives, Tampa Museum of Art, Tampa, FL |
| 1985 | Malone & Hyde Art Collection, Tennessee State Museum, Nashville, TN |
| 1984 | Innovators in Paper, Carr Gallery, Houston, TX |
| 1984 | Alexandria Museum September Competition, Alexandria Museum, Alexandria, LA |
| 1982 | Gallery 10 Cow Show, Gallery 10, Washington, DC |
| 1981 | Five from the Valley, Virginia Museum of Fine Arts, Richmond, VA |
| 1981 | Animal Images, Renwick Gallery,Smithsonian Institution, Washington, DC |
| 1980 | A Taft Menagerie, The Taft Museum, Cincinnati, OH |

SELECTED HONORS   
| | |
| --- | --- |
| 2005 | 2nd Annual VMRC, Park Gables Gallery, Harrisonburg, VA  (Juror's Award of Excellence) |
| 2002 | Miniature Art 2002, 18th Annual Exhibition, Chambersburg Area Council for the Arts, Chambersburg, PA  (Honorable Mention) |
| 2002 | Smith Mountain Arts Council Art Show 2002, Moneta, VA (Merit Award) |
| 2001 | Artisans Center of Virginia, Waynesboro, VA  (Featured Artist for July) |
| 1994 | Mid-Atlantic Crafts, Towson State University, Towson, MD (Juror's Award) |
| 1985 | Visual Arts:  The Southeast, Atlanta, GA (Purchase Award) |
| 1984 | Crafts 18 National, Pennsylvania State University, PA (Purchase Award) |
| 1983 | Crafts 17 National, Pennsylvania State University, PA (Award of Distinction) |
| 1980 | International All on Paper, Associated Art Organizations of Western New York Art Gallery, Buffalo, NY (First Place, 3-D) |
| 1979 | Exhibition 280:  Painting, Sculpture and Crafts, Huntington Galleries, Huntington, WV (Purchase and Achievement Awards) |

PUBLICATIONS   
| | |
| --- | --- |
| 1991 | An Appreciation of Matisse's Blue Nude, Worlds of Art (ed. Robert Bersson), Mayfield Publishing, Mountain View, CA |