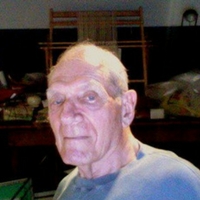 In 1959, Dr. Crystal Theodore hired Dr. David Diller, a ceramist.
Theodore, long-time head of the Madison Art Department, organized the college's first TV programming in the 1950s when both commercial and public television were in their infancy outside the nation's major metropolitan areas. The WSVA-TV show, "Viewpoint," also focused on the arts and included interviews and demonstrations by Shenandoah Valley artists, many of them from the Madison faculty.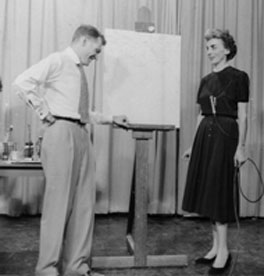 Dr. Diller with Dr. Theodore on a "Viewpoint" TV show
Dr. David Diller Years - 1968-1980
Dr. John David Diller, M.F.A., Ph.D. (Ohio State), assumed the role of department head in 1968. Dr. Diller's term as department head would see a rapid increase in the size of the faculty and student enrollment. Also, the program's curriculum would continue to evolve into a more professional and cohesive structure ultimately resulting in the department's professional accreditation by the National Association of Schools of Art and Design (NASAD). The growth of the art program and the expanding number of faculty directly related to the early efforts of Dr. Ronald E. Carrier, the university's fourth president.

Art student receives drawing help
from professor, 1972

Art students learn
to weave, 1972

Student painting
from a model, 1972

At the beginning of Dr. Diller's tenure, the art program employed 9 faculty and listed 34 courses in its curriculum. By the conclusion of his tenure, the program had grown to employ 24 faculty, 2 professional staff and an expanded range of professional course offerings covering specialized studio areas in graphic design, interior design, printmaking, metals, and fiber arts. During the 1970s, Dr. Diller hired eleven faculty and one staff member. Joining the faculty during this time were Rebecca Humphrey, Barbara Lewis, Ron Wyancko, Steve Zapton, Gary Chatelain, Jim Crable, Alan Tschudi, Dr. Kathleen Arthur, Dr. Phil James, Jack McCaslin, Masako Miyata and staff member Christina Updike.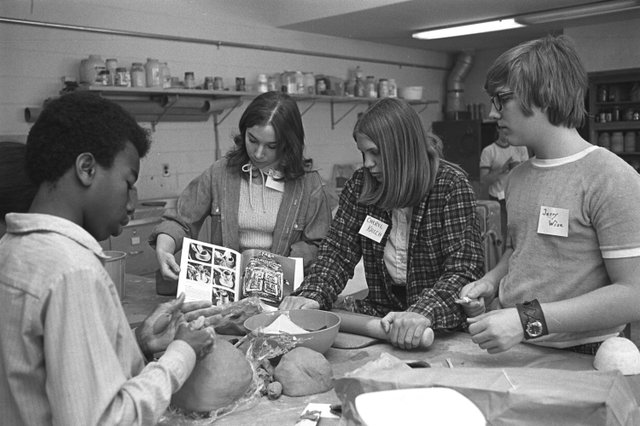 Art students working in the ceramics studio, 1972


Hiring continued into the early 1980's when Dr. Diller brought gallery director Stuart Downs and art historian Dr. Linda Halpern to JMU. Several other faculty members were hired during Dr. Diller's era, but have since left the university. Notable among this former faculty was the first African American faculty member employed at Madison College. At the end of Dr. Diller's tenure, the visual arts at JMU had grown into a full-scale professional program. The B.F.A. and M.F.A. were added to its degree offerings, and efforts were underway to seek professional accreditation from the National Association of Schools of Art and Design (NASAD).
Dr. Diller stepped down from his post as department head in 1980, and rejoined the faculty. During his 12 year tenure as department head the program graduated over 359 art majors. He retired with the rank of Professor Emeritus in 1992.