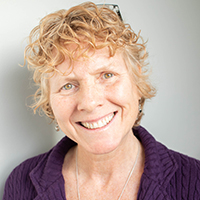 Professor of Graphic Design
Year Started at JMU: 1993

Education
M.F.A. (Graphic Design), Penn State University

B.F.A. and Painting/Teaching Certification K-12, Tyler School of Art

A.A. Graphic Design emphasis, Bucks Community College
Areas of Expertise
Although Cole is well-versed in many aspects of graphic design, she specializes in logo design and brand identity systems.
Teaching Experience
Cole has taught almost every course offered in the graphic design program, but she is the primary instructor for brand identity, design methodology, poster design and internships.
Professional Graphic Designer
Some of Cole's clients include JMU, Pure Madi, Hinge Incorporated, Superior Dent Solutions, Open Door Enterprises LLC, Harrisonburg Parks and Recreation, Art Council of the Valley, Harrisonburg and Rockingham County's Healthy Community Council, United Way, West Rockingham Daycare, Harrisonburg/Rockingham Child Daycare Center, Valmontis Bed and Breakfast, John C. Burney Inc. Financial Investors, Dayton Nursery School, Ridge Creek Ranch, Madison Project, and Mount Crawford Creamery.
Previous Experience
Cole has been a member of the James Madison University faculty since 1993.
1990-1993, assistant professor and coordinator of the graphic design program at Frostburg State University.
1988-1990, instructor/teaching assistant, technician and designer at Penn State University. 
1987-1988, teacher substitute for grades K-12 in Phillipsburg, Penn.
1983-1987, art director for the Freedom Greeting Card Company in Levittown, Penn., arts and crafts director / teacher for the Winter Recreation Program of the Parks and Recreation Department in Bensalem Township, Penn. (1984-1987) 
Freelance designer since 1985.
Professional Affiliations
Cole is a current member of the American Institute of Graphic Arts and the Art Directors Club of Metropolitan Washington. She is a past member of the Graphic Design Education Association, the College Art Association and the American Association of University Professors.
Honors and Awards
Cole has received many awards throughout her career, including American Graphic Design and Advertising Best of Category, 39th Creativity Annual Awards International Gold Award, AIGA 50, The AIGA/Richmond GRADE Merit Award, the Art Directors Club of Metropolitan Washington Gold and Silver Awards, First Night Nationals Third Place Award, Editor's Choice and Merit Awards in More Great One, Two, and Three Color, and the Maryland Alliance for Arts Education Award. 
She was the second-place winner for How International Annual of Design, and a finalist in the Dutton National Children's Book Competition. She won the Penn State University Research Competition Exhibition Poster Contest, and received the Philadelphia Water Club Award for extraordinary studio and academic accomplishments. She was also honored as judge for the Western Maryland Watercolor Society Exhibition and Art In the Park of Staunton, Va. 
Some of her grants received include: 2013 JMU 4-VA Mini Grant Award, 2012 Visiting Scholar Ellen Lupton, 2006 Visiting Scholar Seymour Chwast, 2003 Art Council of the Valley, Valley Fourth: Forever May She Waive Mural design, 2002 JMU Summer Teaching Grant entitled: Poster For the Public Good, 2000 Faculty leave Grant entitled: Advanced Web Design, 1997 Technology Grant entitled: Web Design, 1996 Summer Teaching Grant entitled: Capstone Course, Graphic Design Portfolio; Life After JMU, 1996 Visiting Scholar, Phil Meggs. Her work has been critically reviewed in Adbuster and Graphic Arts Monthly.
Scholarship
Some of Cole's many competitive exhibitions/publications include: New Generation, Posters For Tomorrow, Numerous International Design Yearbooks of China, Rockport Design L Logos, Bright Ideas for Color in Graphic Design, Logos 1, Posters 1, Posters 2, Logo 2.0 Re-Designs, Design for the Divide, Market Smart Design, Go, Stop Slow Eat, Designing for the Divide, Numerous Carter Publications, Color 1: Bright Ideas for Color in Graphic Design, Tradmarks USA, Victory for Tyler, The Big Book of Design Ideas 3, American Design & Advertising, Design of Dissent, Self-Promotion, Propaganda III World Tour Poster Exhibition, Progressive Direct Mail, Seasonal Postcard Collection, The Big Book of Business Cards, AIGA Grade, New Business Card Graphics, 9 éme Triennale Internationale de l'affiche politique, New Logo and Trademark Design, First Night National, Ideas Unbound, Logo World, Toyama 7th International Poster Triennial, Invitations, Direct Mail Graphics, Private Greeting Cards, Encyclopedia of Paper-folding Designs, many American Corporate Identity publications, numerous Creativity Annual Awards and publications, Logos Go Digital, Letterheads in the Third Dimension, Bullet Proof Logos, New Business Card Graphics 2, AIGA 50, Graphic Design USA, Graphis Logo, Graphis Letterhead, Designer as Author: voices and visions, Adobe Magazine Design Contest, Graphis Letterhead, Great Rejects, Entertainment Graphics, AIGA Communication Graphics, More Great Design Using 1,2, and 3 Colors, Numerous American Graphic Design Awards, AIGA Maximum Message/Minimum Means, Print's Best Logos and Symbols 3, The Best of 1, 2, and 3 Color, Fresh Ideas in Letterhead and Call Card Design, ADCMW "Full Bleed" Membership Publication, AIGA The One & Two Color Show, HOW International Annual of Design, Graphis Poster Annual, numerous ADCMW Annual Exhibitions, and Print Annuals. 
She has served as an External Reviewer for five Universities and has reviewed eleven books. 
Invitational Exhibitions: 
She has been invited to participate in exhibition/publications such as: ADCMW Promotional Brochure, JMU Annual Faculty Shows, Women's Health Exhibition, Rockingham Memorial Hospital, Allegheny Highlands Arts and Crafts Center, Frostburg State University Faculty Shows, and FSU Inaugural Art Exhibition.
Service
University Service

Cole has created numerous designs JMU. She designed the JMU logo; The JMU Faculty Service Pin; School of Art and Art History logo, undergraduate and graduate posters, employment ads; the School of Media Arts and Design logo and letterhead; College of Communication & the Arts logo; Here 2 Help Logo, Class of 2013 T-shirt Design, College of Arts and Letters logo, JMU Art Auction Logo, Madison Business Network Logo, and numerous Encore Series Advertisements. She has designed the Arts Festival posters, schedule, announcements, display boards and six posters for the School of Theater and Dance. 
She has served on university committees such as Committee on Community, Commission on Student Services, BluesTones's Faculty Advisor and the Media Board. At the college level, she has served on the College of Arts & Letters Showcase Committee, Organizational Task Force, Faculty Assistance Committee and the Arts Festival Committee. She has served on the School of Media Arts and Design's PAC, Director Evaluation Committee, C&I Committee, and chaired the C&I and Multimedia Subcommittee. 
She has chaired or served on the School of Art, Design and Art History's committees such as: C&I, Director Advisory, Binford Walford Scholarship, Director and Media Arts Search Committees, Assessment, Newsletter, Search, PAC chair, Home Page, Assessment and as the School's webmaster. 
She has served as assistant director of the School of Art & Art History, coordinator of the graphic design program, graphic design internship coordinator, graphic design portfolio review coordinator, university graphics advisor, SAAH transfer student advisor, a graphic design student advisor, and an honors advisor.
She has organized the visitation of many professional lecturers, as well as numerous student trips to Washington, D.C., Richmond, Va. and New York that include lectures, studio tours, career days and symposia. 

Public Service

She has served her community by presenting lectures on fliers and branding for the Shenandoah Valley Small Business Development Center, as a Valley Volunteers Forum lecturer on pro bono design, as an "Art Fling" participant at Shelburne Middle School, as a WMRA phone volunteer, on the orkshop Stage at the Rocky Gap Blue Grass Festival, as an AIDS Quilt Reader and an art show judge for the Blue Ridge Disability Services Board.

 
Public Service ProBono Design
Some of Cole's community service includes designing and overseeing implementation of "Forever May She Waive" and "Sierra in September," two of her mural projects. She has designed identity systems for the Arts Council of the Valley, the United Way Campaign, Healthy Community Council and the Mid-Atlantic Wheelchair Games. 
Some of her logo designs include: West Rockingham Daycare, Dayton Nursery School, Little Treasures Daycare, Frostburg Palace Theater, and Allegheny County Animal Welfare. Other works include the Harrisonburg/Rockingham Daycare posters and programs, the Allegheny County Health Department AIDS billboard and George's Creek Works Performance Art announcement.