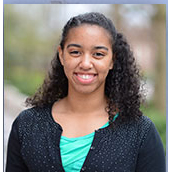 I met Shelby this past semester in our Creative Writing class, and I knew from the first essay she wrote that she was one of a kind. Her writing is uniquely brave and vulnerable, and as an English major, I was in awe. I'm sure the rest of my classmates felt the same. When Shelby talks, everyone listens intently, because we know that her critique will be both informative and valuable as we edit our own papers.
At JMU, Shelby's major is in Justice Studies, and she has minors in Creative Writing and in Women's and Gender Studies. As her advisor and professor writes, Shelby is "among the top 1% of students" she has had the privilege of working with in her fifteen years of teaching. Shelby seems to have emulated some of her respected professors, because she is currently teaching her own one credit course on Diversity through the JMU Teach Program. Much of her course is focused on LGBTQ topics. 

In fact, Omicron Delta Kappa has recognized Shelby for her excellence previously, just two years ago when she was awarded the Raymond C. Dingledine, Sr. Scholarship in 2012. Then in spring 2013, Shelby was recognized for her advocacy and activism work related to LGBTQ topics when she was awarded the JMU Diversity Enhancement Award AND the JMU Woman of Distinction award.
In fall semester, 2013, Shelby was awarded the Richard L. Schlegel National Legion of Honor Award for Emerging Activists, which is a national award given to only one individual. 

On JMU's campus, Shelby has volunteered for leadership roles in Madison Equality, where she served as Educational Coordinator. She also volunteers for JMU's LGBT & Ally Education Program and worked for the House of Privilege program. 

In the Summer of 2013, at the U.S. federal government level, Shelby worked as an intern with the Gay and Lesbian Victory Institute's Congressional Internship Program and assisted congressional staff in conducting research, creating fact sheets, and writing memos leading up to the introduction of a reauthorized bill (the Runaway and Homeless Youth Act) that ensures LGBTQ youth aren't discriminated against. I have no idea how she does it, but Shelby also manages to work three jobs while in school to help pay her own tuition, as well as that of her younger sister. 

The list of Shelby's achievements goes on and on, but I think it's clear that she is truly an exemplary student and person who is well deserving of the All Together One Award. On top of the many roles that she plays both on campus and off, Shelby's personality is defined by her collaborative style and her genuine concern for the well being of others. In person, she is humble and dignified, but enormously persuasive. It seems clear that Shelby will certainly continue to do great things. It is my pleasure to present to Shelby Wiltz an All Together One Award for 2014.
Written by: Isabelle Furth