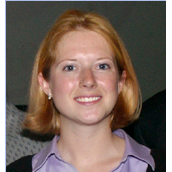 A Pillar of Light
"Do not follow where the path may lead. Go instead where there is no path and leave a trail." From the very first day of her freshman year, until this, her last year here at James Madison University, Lyndsey Walther-Thomas has used her entire being to enrich the campus community, uniting major organizations with the common goals of achievement and service to fellow students and faculty members.
"I guess the first word that comes to my mind when I think of Lyns is dynamic, as she excels in different roles in and around this campus and community. She can step up and literally lead this whole campus ... with her voice," says friend, Chrissy Deery, describing one of JMU's most outstanding and inspirational students and the recipient of today's "all together one" Award.
Whether by word or deed, Lyndsey exemplifies what it means to be a true leader here at JMU. While pouring herself into new and challenging experiences year after year, she has grown tremendously and encouraged others to do the same. Despite her many activities, her friends are still her top priority. Krissy Schnebel says, "I know this girl like the back of my hand." As friend Jake Miller says it best, "to know Lyndsey is to love her."
First finding her niche in the Student Government Association, Lyndsey was not only a student senator for three years but also served as freshman, sophomore and junior class president. She initiated several on-campus events, including the MTV Real World Speakers, Purple Out and Up 'til Dawn, a fund-raiser for St. Jude's Hospital. In 2001, she was the Minor Elections chairperson and the 30 Years of SGA Committee chairperson. During her senior year, she served as the vice president of student affairs on the executive board. Through each of these facets within SGA, her mission was clear: create unity through academic programs, social gatherings and community service projects for the JMU student body.
As an orientation program assistant, Lyndsey eased the difficult transition for freshmen to the larger JMU community.
A few years ago, some students were left homeless after a fire destroyed their apartments in the Hunter's Ridge development. In response to the tragedy, Lyndsey unified students for the common good. Under Lyndsey's leadership, the SGA used a mass e-mail, fliers and handbills to seek monetary donations along with living necessities. Though the task at hand was tough and the number of volunteers who helped in the collection effort was low, the SGA continued efforts throughout the summer to help replace what their fellow students had lost. "No matter what Lyndsey is doing," says Schnebel, "she gives it 110 percent of what she's got, and she does it all with a smile."
Lance Secretan once said, "Leadership is about inspiration - of oneself and of others. Great leadership is about human experiences, not processes. Leadership is not a formula or a program, it is a human activity that comes from the heart and considers the hearts of others. It is an attitude, not a routine."
Leading a group seeking to serve fellow students, Lyndsey diligently laid the foundation for a SafeRides program that began operating this year. SafeRides helps to prevent drunk driving by providing a safe ride home for JMU students. The organization, which elected Lyndsey as the executive director, encourages participation from all students and has grown by leaps and bounds.
Whether it was bringing Purple Out to JMU or starting up SafeRides, JMU will never be the same now that Lyndsey has been part of our JMU family. Lyndsey has inspired others to change the way they look at this university; she makes us look at it as our home and the people here as our family.
Schnebel says, "Lyndsey exemplifies what it means to be a true leader here at James Madison University. Leadership is about inspiration, and Lyndsey has inspired countless students, faculty, staff and other members of the JMU community in her past five years at JMU. Lyndsey has been a constant driving force at this university. If you look back on what JMU was five years ago, from a student aspect it has changed considerably, and Lyndsey has been part of that change."
Last year, Lyndsey was honored with the Carrier Award, recognition of the student leader who represents the overall ideal JMU student leader. She developed as a leader in campus organizations that positively impact and contribute to the community while she maintained a strong academic record. Lyndsey possesses outstanding communication, delegation, motivation and organizational skills. Deery says, "Lyndsey has taught me more than I could ever learn in a four-wall classroom. She has taught me that there is a reason to pick yourself up and keep moving in the direction of your dreams. She has taught me to laugh often and build an element of fun into everyday. And she has shown me that it's all right to get a little bit nutty sometimes, because that's what makes this all worthwhile. She is humble, appreciative and open minded to new thoughts and ideas, all the while remaining constantly grounded in what she believes in her heart."
Walter Lippmann once said, "The final test of a leader is that he leaves behind him in other men, the conviction and will to carry on, the genius of a good leader is to leave behind him a situation which common sense, without the grace of genius, can deal with successfully."
"Before I knew her well," says Jake, "she was always one of my favorite people to see on campus, because she would always be so excited to see me, even before she even knew my name. Her sense of humor is one of a kind. I love being able to sit with her for hours and not stop laughing. It's so hard to put such an amazing, incredible person into words because words don't do her justice. She truly is the most amazing person I've ever met. I am lucky to call her a friend, and the JMU community has benefited so much from her presence here."
Lyndsey Walther-Thomas has made her mark on James Madison, and this university will be forever changed and forever better.