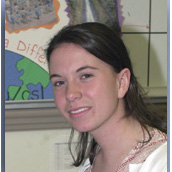 Lifting the World One Heart at a Time
Morgana Wallace bounces into the Community Service Learning office with her pigtails bobbing up and down. Her red-feathered shirt, scarlet velvet pants, and wild purple robe suddenly fill the room with unexpected color. To someone else this outfit might seem somewhat risky to wear. But after all, it's Valentine's Day. To Morgana, these colors capture the essence of the day and not wearing them would be the greatest risk of all. Handing out paper Heart for A Hug's with her captivating smile grinning from ear to ear, there's an immediate change in the office atmosphere as she begins her busy day. Creating a livelier and brighter mood every place she goes, Morgana's heartwarming personality is only one of the many facets that constantly draws people to her.
Keri Scully says of Morgana, "She's more of a giver than a taker, always helping out others as much as they're helping her. Even when she's running around the office, she'll stop and thank us for helping her. That's one thing I've really learned from her, to be more grateful for the things people do. She is a true role model to me."
Always eager to step up and go the extra mile to help others, Rachel Montgomery remembers Morgana the day of the Alternative Spring Break leader retreat. Morgana, pressed for time, was running around the office doing a hundred things at once, something that she's become extremely good at this year. In runs Becky Hamilton, looking for someone to sit in her car for 15 minutes so that she wouldn't get a ticket. The six people in the office, engrossed in their work, hesitantly look up. Morgana immediately jumps up and replies without even the slightest bit of hesitation, "I'll do it"! Leaving all of her work behind, she skips downstairs to sit in Becky's car for 15 minutes. If Morgana could give all of herself to others, she would.
"Morgana is the most selfless giving person I have ever encountered in my entire life. Whether it's to a friend, or a stranger, or a cause that she's passionate about, she gives and gives and gives and when you think that she could possibly not give anymore, she finds someone else to give to. It's just amazing. She seeks out those opportunities to help people and to be there for people and to support people and to empower others to do the same. The world will be a better place because Morgana's a part of it." - Laura Marusa
Morgana's decision to go on the Appalachia Service Project Spring Break trip is a true example of her leadership and selflessness. Up until a few weeks prior to spring break, the Appalachia Service Project trip had not yet reached their minimum number of participants. Morgana was very upset at the prospect that this trip would not run and while others involved racked their brains for ways to find participants, she stepped up and volunteered herself as a participant. Although she had already gone on this particular trip and was eager about the trip she had signed up for prior to this, she selflessly placed herself on the trip in order to provide the 6 other participants the opportunity to go on their service adventure.
"So I think that's the thing that I always appreciate so much about Morgana, she really walks her talk, what she says is really the way she lives her life. So it's not an act, she's about as genuine a person you'll ever meet." -Rich Harris
Through actions such as these, it is no wonder that as Alternative Spring Break Coordinator, Morgana has constantly exceeded all expectations and risen far and beyond all things possible.
"She really does have a vision of where she would like the program to go but how to change people's lives. But she's real skilled at not taking that on all by herself. She's good a not only delegating but I think really including people in the process and being kind of the chief cheerleader. Something that's really been, was hard for her to do at the beginning of the year but she became much better at is holding people accountable. But she did it in such graceful, kind ways that I think people feel like they were being inspired rather than they were actually being held to do something. So I think through that combination of a lot of things, she really inspired people to do more than they really ever thought they could do on their own." - Rich Harris
Her relentless dedication and drive helped make this year's twenty trips successful ones, all the while doing it with a smile on her face. Her passion, commitment, and enthusiasm for service has had lasting impacts on all those who she has come in contact with. Morgana whole-heartedly believes in the goals of the Alternative Spring Break movement and is constantly making a difference through her commitment to the entire JMU and Harrisonburg community. As Rich Harris, the Community Service Learning Coordinator states, "Morgana has wisdom, wisdom way beyond her years. It truly amazes me how much one student can do. She has touched the lives of the 300 participants in the JMU community, as well as the communities they served, literally, all around the world."
"As a trip leader for one of the Alternative Break trips, Morgana was the most empowering figure in the entire program. She believed that every leader had the capacity to go out and make a difference and she was there to support you and do anything she possibly could but her main function was to make sure you knew that you could do it because she believed that everyone could." -Laura Marusa
Every single day Morgana encompasses the vision of All Together One by making it her mission to intertwine her life into the lives of others. Although she's always eager to share a piece of herself and her experiences, she's even more excited to learn from, and make connections with individuals of all walks of life.
"I think having her talk about her extracurricular life also in the office really makes the staff appreciate things more because of her being there. She'll talk about how she took her little sister from Big Brothers Big Sisters to an art exhibit that she needed to see for her class and how neat it was to share it with her little sister, or she'll go to friends' plays all the time all across campus or go to Zirkle House exhibits. So she's really supportive of others who are pursuing art and different forms to. She appreciates everything that goes on campus and all the events and all the different ways you can get involved. So, she's a real supporter of that and promotes that in the office." -Keri Scully
Through her many interactions, Morgana has touched the lives, and warmed the hearts of countless students, faculty members, and community members. Morgana is a true artist, creating works of art as well as works of human experiences. The spirits of others exist on her palate like paints, and she is able to mix and blend those around her to create the most amazing "colors" imaginable. Within Morgana herself, there is an infinite amount of colors on her palate, with Alternative Spring Break to name only one. Whether it is finding new projects or ways to improve or give back to JMU, the time and love she invests in her little sister from Big Brothers Big Sisters, leaving her roommates notes around the house to remind them that they are loved, or sharing her exquisite works of art with the JMU campus, she is constantly creating and radiating beauty.
As one of Morgana's favorite quotes states, "Wheresoever you go, go with all of your heart", there is not one person whose path has crossed with Morgana's that would disagree, Morgana lives her life with all of her heart! The spirit of JMU will continue to thrive because of students like Morgana Wallace who believes that each of us is stronger when we're all together one!
THE JMU COMMUNITY THANKS MORGANA WALLACE!