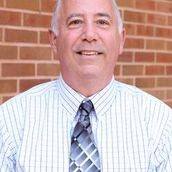 It is my greatest pleasure to award Joe Urgo with the 2017 All Together One award. Joe has shown his love and dedication for our university by being at James Madison University for about 30 years now. Through these years, he has taken on a variety of positions on our campus such as, working for food services in the catering area, Associate Director of Events & Conferences where he served as an ambassador to thousands of people visiting JMU, and has most recently become the Associate Director of Madison Union.
Joe's consistent determination and ability to inspire others around him has led to many successful projects over the years. Some of his most successful projects have been bringing digital advertisement onto our campus and establishing the EMS calendar in the early years.  Now students and faculty can be conveniently informed on upcoming events as well as saving tons of paper from all of those posters we used to hang up.
You will not find someone who cares as deeply about the university and everyone in it as Joe does. Everyone that comes to know Joe says he is a great listener and very supportive of everyone's thoughts and ideas. One of his nominators shared the following story with me that I believe depicts how caring and interested Joe is in everyone on campus. "One day last fall, I was walking into Madison Union while a steady line of young men were walking up the stairs and out onto the 3rd floor patio carrying pumpkins. Now, working on a college campus, you get used to seeing some crazy things like people wearing ketchup costumes on a random Tuesday, but this one caught my attention. My coworker and I went to ask the building staff what was going on. Joe's immediate reaction was to help find a speaker and an extension cord so that the fraternity could finish their pumpkin smash fundraiser with amplified sound. This sums up Joe's attitude towards working with others. Joe never asks, "You want to do WHAT?" but rather "What do you want to do and how can I help?" Joe's leadership style is to help everyone work toward achieving their goals in life and he will always go the extra mile in order to make that happen.
Joe is known for following a "back of the bus" management style that allows people to go out on their own and truly learn a lot from their position. If he sees an employee having trouble, he will slowly work his way up the bus by asking questions to understand the situation and where he can be of assistance. This management style enables others to feel empowered, confident, and allows his employees to work up to their full potential. Another nominator states, "Joe is by far the best supervisor I have had in 40 years of working." He is also known for being an excellent baker, especially when it comes to the salty chocolate caramel cookies. Each holiday season, Joe bakes and packages his tasty homemade cookies that he not only makes personally but hand delivers to all of his employees. One staff member said, "Joe's background and wealth of knowledge allows him to build a foundation of support and encouragement to his staff in their work. When his staff would have birthdays sometimes he would make more than one cake and added, "His cookies are superb and not just delicious but beautiful, too."
This just goes to show how Joe goes above and beyond what is expected of him. Always putting himself on the line to add value, or simply do his best for everything he does.  Nothing is ever too trivial or inconvenient for him to put himself on the line for JMU and the students, staff and co-workers.  He is a solution oriented person who cannot stop at "good enough".  He literally wants everyone to have their best shot at something they believe in and he will go out on a limb to help them succeed, and support them in every reasonable way.
One year Joe spoke very fondly about cinnamon rolls that a co-worker made, and he pined over the fact that he could not make them come out just right when he followed the recipe.  So Joyce Bentz his recently hired Conference Coordinator arranged for Boss's Day in the brand new Logan Hall basement kitchen, and the co-worker gave a hands-on cinnamon roll demonstration to allow him and his staff to work with the dough and learn how to make cinnamon rolls.
Joe CREATED the model for Summer Conference Operations when he was in JMU Catering.  He originally worked out of a small residence hall office in the Village.  He later became the Conference Director with the staff in Events & Conferences and built it into the fabric of what it has become today.  Ritter Clevenger tells the following story: When I first met Joe, I was a student employee in TDU.  Summer Conferencing was moving to TDU for their operations due to summer remodeling.  I sat at the desk hired to do clerical duties. I watched this unknown man (Joe) move countless pieces of equipment tables, chairs, files  - office things of every kind up and down the elevator, I finally said, "You seem pretty busy."  The answer,"Yeah we are moving our summer operations to TDU." Before we exited the elevator, Joe said with a half-smile, "You know what JMU stands for…Just Move Us." Later I found out he was the boss.  I thought "He is clearly working way too hard to be the boss. What a great leader he was and is to this day."
Joe makes mundane tasks or days into an exciting adventure.  He drove a Box Truck so enthusiastically from storage unit to residence hall location.  His packing skills were on display when he would transfer thousands of garbage bags full of pillows and blankets – he made this the TEAM activity the first Saturday after the first week of training.  His logistical skills are so excellent that he could keep the truck Full and Rolling continually until the day's tasks were complete with no lag time and a continuous rolling/packing/dumping machine.
Joe and his accomplishments are well known and respected campus wide through his motivation and willingness to make JMU the best university it can be. His vision and leadership to provide excellent customer service coupled with his ability to connect with anyone and everyone and has the willingness to help out wherever he can have highlighted his 30 years of employment at JMU, he has impacted the lives of countless students, faculty, staff and visitors.  He is truly Mr CanDo at JMU.  I am truly honored to present a 2017 All Together One Award to Joe Urgo.
Written By: Elayna Cross