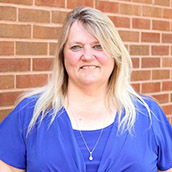 When I was preparing for this speech to recognize and congratulate Debra Kay Turner for receiving the All Together One Award, I first went through all the nominations that Omicron Delta Kappa had received to nominate her. We received nominations from a combination of friends, colleagues, students, and staff, all of whom eagerly gushed over Debbie and how amazing she is. I wanted to break down exactly who Debbie is, and share with you all what makes her the exemplary person she is.
As I mentioned, I read through the nominations several times hoping I could convey the love and emotion expressed by her nominators. I decided to start a running list of all the adjectives that were used to describe Debbie, however, my plan was foiled when I filled up an entire page of words and phrases that embody her. Just a few of those words and phrases used to describe Debbie included the following: "outstanding, meaningful, 'heart of gold,' role model, teacher, nurturing, generous, incredible, 'heart-warming,' genuine," and lastly – the one I found most impactful – described Debbie as, "overwhelmingly deserving of this award. "Now, for those of you who do not know Debbie, you may be asking yourself, 'What provoked all of this praise and recognition from so many people across the JMU community?" You see, as we know, the All Together One Award is designed for those here at JMU and Omicron Delta Kappa we might call a 'servant leader,' or someone who helps others going above and beyond, and Debbie is just that person. Debbie is a bus driver for JMU Transportation, mostly working to drive large buses for athletic teams, alternative breaks, student groups, and more. To some, this may seem like a ordinary job, however, Debbie has taken this job far beyond any expectations that come along with that title.
Many of the people who nominated Debbie knew her from the Alternative Break Program through JMU's office of Community Service-Learning. Some of these week-long breaks take place during the school's January, May, and November breaks where students and staff sign up to volunteer around the country to help those in need. With that said, some of these trips are large outings with several dozen people in attendance, all of which need larger than life transportation. Not only has Debbie undertaken these expeditions numerous times over the past several years, but she has gone above and beyond the call of duty every single time. During several November breaks, Debbie gave up her Thanksgiving family time to drive over 60 students and staff to New Orleans. On each of these trips, Debbie calls everyone she drives her 'babies' emphasizing simply how much she cares, and how she treats everyone she encounters like family. During her time there, she went out of her way to make calls to local drivers to find the best route, cut down on travel time, and to make every single person feel comfortable and safe.
Those who nominated Debbie shared heart-warming stories such as her replacing a broken Frisbee, that had been accidentally crushed, having flown into the street in New Orleans. When a student accidentally misplaced a valued item on the bus during an Alternative Break, Debbie dug through the bus trash, after having returned from an 18-hour drive, retrieved that item, and returned it to the respective student. Debbie is also described as, "not only a shining star at JMU, but in her home community of Page County… put[ting] everyone before herself…[and is the] type of active citizen [that] is a great role model for JMU students and our community in Page County."
One final story I would like to leave with all of you here today, is the story of when I first met Debbie, and why it makes it that much more special that I am able to present her with this award. I was tasked to 'tap' Debbie, once she had been selected for this award. This was planned with the help of several of her nominators (I could not have done it without you all, thank you) where we planned to be picked up by the softball shuttle she was running at the end of March, where I could surprise her and tell her about her nomination. When we all boarded her bus, she was excited to see familiar faces of those who had worked with her, or gone on those week-long trips with her. She hugged every single person who got on the bus, including myself. She looked at me, smiling ear to ear, and said, "I don't know who you are, but I'll give you a hug!" Then, as I began to talk about a person who was on the bus would be receiving an award, I saw the excitement on her face, looking among those aboard, wondering just who exactly of her friends it might be. When I turned to Debbie and told her that she was indeed the one who would be receiving the award, she was so surprised that she surprised me. That moment made me realize how truly selfless Debbie is, always putting others before her, and not expecting anything in return. That is why she is so overwhelmingly deserving of this award. Congratulations Debbie! Will you please come forward!
Written by: Samantha King