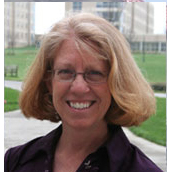 As a member of Omicron Delta Kappa I have the distinct honor and privilege of presenting the "All Together One" award to Dr. Mary Tacy.  Ever since reading Professor Sarah O'Connor's nomination of Dr. Tacy I have been tremendously impressed by the work Dr. Tacy has done and the impact she has made on the James Madison University community and internationally. I can think of no one more deserving of recognition for the All Together One award.  Dr. Tacy, professor of geographic science, has made a lasting impact on the lives of many students and on the James Madison University community as a whole through her commitment to international education and service.
Working with other faculty members, Dr. Tacy founded the International Partnership for La Gonave in 2003.  This is an umbrella organization for groups and individuals working to improve living conditions in one of the poorest parts of Haiti.  Since the International Partnership for La Gonave's founding, Dr. Tacy has worked with its members and residents to start a school, sponsor jobs, start a student scholarship program, build houses, install a solar pump for the town, construct cisterns, start food programs, collect medical supplies, start a clinic, provide internet connection, provide AIDS education, and much more.  In the fall the International Partnership for La Gonave worked with James Madison University to sponsor a conference on the United Nations Millennium Development Goals and how they can guide future work on La Gonave.  Currently, Dr. Tacy is planning the fall conference on technology in underdeveloped countries and a conference to be held on La Gonave and the empowerment of women.
Dr. Tacy has involved students in every aspect of the work.  Many students have done internships with her, she has spoken in classes, she designed new courses on the geography of disease and on sustainable housing, and hundreds of students have been educated about the United Nation's Universal Declaration of Human Rights in her GGEOG 200 class.  Students in her Cultural Geography class engage in volunteer work every semester.  They have worked with the local refugee office and tutored in the local school system.  Many students have helped with conferences, from planning to execution. 
When I spoke to some of Dr. Tacy's students they all seemed to repeat one word to describe their professor: passionate.
"Dr. Tacy is such a strong figure in the JMU community, she has such a passion for the projects that she works on, and really inspires the students to do great things. She is always there wanting to make a connection with the students in order for them to get the most out of the learning, or interning experience. It is few and far between who truly listens to the ideas of students, and wants to put them into practice."
 
"I only really started working with Dr. Tacy this semester, but it has been a great learning experience. I love being able to apply what I learn in class to help actual people and places. Dr. Tacy sets a great example for us; she has so much passion for what she does. It truly is in her heart and you can see it. It's also amazing how she can radiate that passion towards her students. She continuously inspires me and teaches me how to not just be a better student but a better person. I have truly enjoyed my time with her this semester."
A fellow geographic science professor echoed these praises:
"Mary Tacy is a dedicated and passionate professor who gives much of her time and energy to wanting to make a difference, especially in Haiti.  As a colleague she has made visits to the hospital when one of us has ended up there and she is a tireless champion for basic needs development and humanitarian aid for some of the world's poorest people.  I join in congratulating her on this well deserved honor."
On behalf of Omicron Delta Kappa and James Madison University I would like to thank Dr. Tacy for her inspiring of others, dedication to her students, concern for the international community, passion to make a difference and truly exemplifying what it means to be "All Together One."