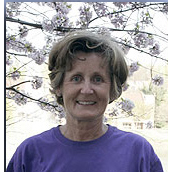 Sunshine and Flowers
Two words symbolize one of the greatest members of the James Madison University community: sunshine and flowers.  Sunshine is an embodiment of the true inner joy inherent within this woman's nature, and  flowers represents the happiness that she so freely shares with each life that she reaches. Mother Theresa once said, Be generous and understanding. Let no one come to you without feeling better and happier when they leave. Be the living expression of God's kindness: with kindness on your face in your eyesin your smile in your warm greeting.
Her enthusiasm, her excitement, she always has a smile on her face. She pays a lot of compliments to people, and goes out of her way to make other people feel good.
She truly values relationships, values the personal touch, and treating others with respect. It is very much a part of who she is, and it transcends into everyday conversation. Caring about students, employers, colleagues, anyone in the community, at the heart of everything is caring. Some of us are caring, yet she has a wonderful way to express it.
One of the keys of the All Together One award is honoring someone who empowers others to find their own uniqueness as well as promoting a spirit of belonging. There is one woman who perfectly embodies these qualities and spreads the joy of James Madison University to all that she meets. It is with great pleasure that we honor and recognize Mrs. Donna Pettit today.
The challenge in discovering who Donna truly is, however, is a great one: to whom does she bless the most with her genuine spirit and exceptional inner beauty? Where is this sunshine most evident? Do the individual students, whom she so unselfishly serves, radiate the most and excel in the next phase of life because of her inspiration? Are the flowers that so often appear on her desk a representation of the love that she reciprocates to her colleagues, recruiters, or past alumni? Or is it simply the smile evident on her young grandson's face as a result of the quality time spent with him that demonstrates her passion for family and appreciation for life?
The answer to these questions is simple: Donna treats everyone that she interacts with as a friend. Greater love has no one than that he lay down his life for his friends. Donna is not merely the wonderful person that we all believe her to be, but also is committed to walk each day of her life as one who can make the world a more beautiful place. One of her most favorite quotes is by Mark Twain, which says, The best way to cheer yourself up is to cheer someone else up. One friend says, Donna is such a good representation of the best that JMU has to offer in terms of the person she is and what she means to everyone she comes into contact with.
Picture with me, if you will, a senior seeking his first job, and embarking upon the first interview. With the resume in hand, stiff business suit and uncomfortable shoes, this student is walking down the stairs of the career center and running over and over his mental checklist to ensure everything is completed. Realizing that he is late and has yet to print out his transcript, he looks up to see the warm greeting of Donna. Donna gently encourages him to find a seat, take a deep breath, and assures him that he is not behind as the recruiters are behind schedule themselves. Why don't you get a cup of coffee and take a minute to collect your thoughts? she says. If the student comes out of an interview, and isn't sure how he did, she asks about their resume. She will ask if its been reviewed. She will also make the bridge to call the Wilson Academic Advising and Career Development office to set up an appointment for a resume review or discussion concerning his interview skills.
Donna Pettit, Assistant with On Campus Interviewing in Sonner Hall, is the heart and soul of the mission of James Madison University that [prepares] students to become educated and enlightened citizens who will lead productive and meaningful lives. Having first served with Admissions, Donna has found her niche in one-on-one service to students, recruiters, and JMU staff to facilitate operations within the Academic Advising and Career Development department of the University. Alongside of her mentor and supervisor, Kathy Thompson, the two worked side by side to help develop the On Campus Interviewing program, transitioning from Career Connections' to the ever popular and remarkable tool, MadisonTrak.' The two developed an incredible bond, sharing values and mutually encouraging each other in the work they do together. Mrs. Thompson says in the seven years that they were able to work together, she always excelled at customer service, for she went above and beyond what she was called to do. She engaged in conversation with each student as if it were the first time she was to answer his or her question. She would spend as much time as they needed, discovering what the specific needs were. She never got any complaints, never, she only received compliments from students and recruiters. You know when true service is real.
Donna is, always finding opportunities to compliment others or encourage them. She is a very positive, professional role model, and serves as a mentor in the office, another colleague says. She is very genuine, she is authentic, and her work is not done for show. It is not done for any reason, it is just who she is, and she resonates with everyone across the board.
Employers and recruiters associate the On Campus Interviewing service with Donna. Lockheed Martin recently ranked JMU above other schools, such as Carnegie Mellon and MIT, for the superiority of the recruiting program. Employers expect professionalism, but Donna takes the extra step to personally know them. Whoever you are, one employer says, she maintains personal contact, How's this or that going? It's always a very specific question, and I have observed the same with other people as well. It's not a detail about one or two people, but a lot of people. She can remember who has three girls, and who has three boys.
Employers, even when the economy is not good, will come here because of the level of service they receive, and Donna is always the first line of contact for them. She will painstakingly work for employers to make sure that they are well taken care of. Donna is one that tends to go the extra mile, and she will look for a way that you wouldn't think of that would be helpful. She is described by friends as, very selfless, and is always thinking of others before herself.
Donna is old eagle eye. She can spot an approaching recruiter early in the morning, and in a flash she is across the street with the parking pass. Regardless of the cold or rain, she will wear duck shoes, just so the employer won't have to make the second trip to put the hangtag on
Donna's light-heartedness and unbelievable sense of humor is what makes her a true joy to work with. She gets up really early, says one colleague. She wakes up around four in the morning. She loves to walk; she walks miles, and then goes to Dunkin Donuts. She makes sure everyone knows that she has donuts! Another colleague says, I don't know another person that can down four donuts in fifteen minutes. She loves sweets and will give them away until they are gone, cause she is such a giver. She'll give and give, and will twist your arm until you take it. Try to pay her back for something, and she will not let you. Donna's colleagues all consistently agreed on one point: She is the best of us.
Donna makes us all want to be better people, better educators. Her enthusiasm, patience, grace and compassion are like a beacon that lights our way as a department and draws students toward us.
Consistently providing flowers from her husband's landscaping business for several weddings of colleagues and their children, free of charge, she constantly raises spirits with her cheery disposition and floral greetings. She's always looking for a way to give others flowers. Usually others are looking to give HER flowers. She's one of the few people who consistently have flowers on their desk, just because past students and employers alike can thank her for all that she has done. Flowers reflect her appreciation for beauty
Whether a student, an employer, colleague, or friend, Donna treats everyone as if they are the most important thing in her life at that moment. She genuinely creates a lasting friendship. Samuel Johnson writes, We cannot tell the precise moment when friendship is formed. As in filling a vessel, drop-by-drop, there is at last a drop which makes it run over. So as in a series of kindnesses, there is at last one which makes the heart run over. As it is today, peers and friends of Donna here to honor her surround us, and are a representation of the many lives that she has touched.
One of Donna's greatest friends here at JMU says, She brings me to tears just when I think about her, because she is so good. When I think of someone being so good, I think of Donna.
Donna, it is with sincere admiration for your humility and courageous good works at this University that I have the honor of presenting to you the All Together One Award.