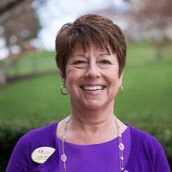 James Madison has an unparalleled community culture. It is felt daily by eager tour groups, visiting family members, and the individuals who enthusiastically commit to honoring the JMU spirit. The All Together One Award celebrates those individuals that not only honor and promote this unique atmosphere, but truly embody it in their role as a duke. On this campus, dukes are not only students, and that is part of the magic behind the overwhelming sense of togetherness felt within the university. Every other being on campus – including the squirrels and quad cats – reinforces the charm that has come to define JMU and has always characterized the "Friendly City." 
Today, I am honored to recognize one of these extraordinary individuals for her unwavering dedication to this university. But also, to express gratitude on behalf of Omicron Delta Kappa for her overwhelming contributions to the JMU culture. Congratulations to UREC's Senior Director of Reservations and Events, Lorie Miller. Her numerous nominations demonstrated greatly her servant leadership, and the ODK Selection Committee members felt very connected to her efforts as a JMU professional as well as her character and personality. I'd like to share some of the inspiring details and stories encompassed in Ms. Miller's nomination letters that ultimately guided the decision to honor her this afternoon.
One nomination described Lorie as the "Spirit of Madison." This line was especially prominent because the All Together One Award is devoted to those who radiate that exact spirit. She leads by example all the time, not just in the office – and her generosity and care certainly extend past the doors of UREC as well. She shows her support at every JMU game to cheer on her students and employees, and what makes her special is her genuine interest in the lives of these young adults. Her open-door policy makes her approachable and accessible in a way that is rare in the professional world. She has an interest in how her employees are doing outside of their responsibilities on the job, and the resulting morale boost proves that her interest is sincere.
Ms. Miller has an indescribable energy that can be felt flowing from the abounding kind words describing her influential leadership style. She maintains respectful relationships with coworkers and employees while also offering encouragement with a warm smile. She creates a home away from home for students adjusting to college life by investing in them not only professionally but personally as well. As director, Lorie is expected to mentor and lead a team of student employees. She exceeds her job expectations so regularly that she has even earned another position at UREC – an informal one among her student employees. Because of her selfless devotion, she is considered a second mom to anyone in need of a little extra guidance or support. Her end of the year gathering is an excellent example of how she fosters this inclusivity among UREC employees. Lorie hosts a dinner complete with games at her own home and invites all her students to come and celebrate a job well done. 
Her giving spirit is accompanied by one of learning. She attends conferences often to continuously challenge herself and engage with new developments and practices in her field. She serves on boards and committees on campus, works with the service learning office, and has recently accepted a new position to further develop her awareness and skill set. She not only contributes to efforts on campus – like being a faculty advisor for alternative breaks, but she is actively involved in service projects for the greater Harrisonburg community.
I expect that many of you will be as surprised as I was to discover that Ms. Miller's compassion does not end with her contributions to the university and the city.  She has willfully filled the role of wedding coordinator and tax specialist for former students and current employees. She instinctually gives without hesitation. Her nature is best exemplified by the commitment she made to one of her nominators: a former student, graduate assistant, and mentee. This person came to Lorie for a position at UREC and got the job along with a life-changing mentor and invaluable personal growth. 
The pair simultaneously learned about the culture of JMU and the culture of Ghana, the home country of this student.  Lorie demonstrated her commitment to diversity, and the subsequent connection she fostered with this employee had a reverberating impact. Through constructive criticism of professional performance and gentle promotion of JMU's togetherness, this student felt belonging on campus and in their position at UREC. 
As her employee blossomed, so did their relationship. So much, in fact, that Ms. Miller organized a fundraiser to sponsor the parents of this young adult to travel from Ghana to JMU to attend the student's graduation. She maintains a relationship with this now, young professional in Florida and the entire family back in Ghana.  Ms. Miller has undoubtedly spread the purple and gold sprit across campus and throughout the city, and, quite literally, across the globe. 
On behalf of the selection committee and her nominators, I am proud to welcome to the stage Ms. Lorie Miller. Her presence at James Madison, involvement in the community, and commitment to families continents away is deeply felt by the many souls she has connected all together as one.  Please come forward to receive your All Together One pin and certificate.
Written by: Lauren Kunkel