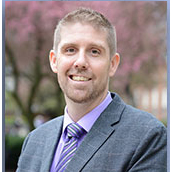 Mr. Kevin Meaney is an excellent example of an All Together One Award Recipient due to his caring and kind attitude, positive impact on the community, his dedication to learning and his fabulous collaboration efforts. Mr. Meaney is a role model among the Office of Residence Life community and has recently been promoted to his position as Director.
Kevin unexpectedly stepped into this role after serving as the interim director without hesitation because of his great passion for leadership. He took over the role at a difficult time for the office, as they were undergoing an audit, an internal review, the construction of first apartments, and the unexpected promotion of the former director. A coworker, Holmes Browne, remarked, "I have always been impressed with his impartial nature and effort to treat everyone equally. This is not always easy when calls come from people of influence, with high expectations to be given special accommodations." When Kevin took over the role, he asked good questions, listened to his employees' concerns, and made sound decisions based on the facts presented. He sincerely appreciated every member of his staff and gives credit when credit is due, which is a reflection of his own abilities as a leader and motivator.
Kevin inspires others daily between the ORL and JMU community and he is a role model for promptness, preparedness and commitment. One of Kevin's greatest qualities is his dedication to working with students as well as their parents. He strives to work together with his staff to satisfy any and all concerns that both parties may have so that the students' JMU experience can flourish. In doing so, Kevin is also timely and efficient in his methods because he knows that housing is a vital part of the college experience. He has disciplined his staff into thinking how the department's actions will impact the JMU students. At meetings, Dee Nilsen says he commonly asks, "how would that work for our residents." Kevin is also extremely involved and concerned with all of his colleagues jobs and projects. Kathleen Campbell wrote, "he even attended a specialized conference this fall in an effort to learn more about my role here at JMU." When it was time to bring in a new software program, not only did Kevin sit in the vendor training sessions with his staff to learn the software, he also took the lead in implementing the software.
He is committed to collaborate with other members of ORL as well as other departments on campus because he is always willing to further his knowledge and create relationships. Joan Houff says that he even "meets everyone in the courtyard" first so they can walk together as a group.
Not only is Kevin an outstanding role model in the JMU community, he is also the father of five children. Kevin is a caring man, all you have to do is ask him any question about his family and you'll see his love for his wife and kids. He recently welcomed his fifth child while also completing his doctoral coursework in the Strategic Leadership PhD program, all the while excelling in his role as interim director. As busy as Kevin may be, he is a star father and husband. He is active in the local church and coaches a youth soccer team and participates in events at his children's elementary school. Furthermore, he keeps his office in top running shape with a smile on his face every day.
In sum, Kevin is an exemplary employee at JMU who is committed to teamwork, helping students and parents, and being an excellent family man all while furthering his education and taking on leadership positions. He even makes the time to visit UREC during his lunch break! He is a man of integrity with a devotion and aspiration to uphold the sense of community that JMU takes pride in having. Kevin Meaney is someone who leaves his mark on JMU and I am honored to present him with this award.
Written by: Tara Capelli