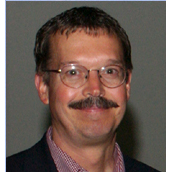 The student waits patiently outside the office - anxious, distressed, nervous, not knowing what to expect - and then, the door opens. A face appears with a look of care and concern, and the student is invited in and asked, "How are you?" The student replies and begins to disclose his thoughts.
Jim McConnel, as an ombudsperson, empowers, listens, provides information and, most of all, sees the strengths that lie in others. Jim McConnel embraces each individual with an open mind. He personalizes each meeting with a student or parent, using different approaches depending upon the situation. Taking as much time as they need, Jim will go above and beyond his role to ease the situation, lead someone in the right direction or resolve an issue.
A dramatic transformation occurs during the time students are in Jim's office. When they leave, they look as if a huge weight has just been lifted off their shoulders. No longer sad, their eyes sparkle with hope, determination and self-confidence. They have found a friend and confidant not just for their remaining days at JMU but for their life's journey. "When students leave, they feel more comforted and knowledgeable about what they have learned. They are glad they came here!" says Jim's colleague, Susan Reid.
If asked to describe Jim McConnel in one word, what would you say? His fellow colleagues and friends offered these words: "brilliant, coach, heart, leader, wise and incredible - incredible leader, incredible mentor, incredible boss, an incredible person."
John C. Maxwell said, "Life consists of influencers who daily find us vulnerable to their impressions, and therefore, have helped mold us into the person we are." Through his interactions with others and the roles he has assumed over the last 18 years, Jim has had a profound impact on JMU.
When he arrived at the university in 1986, Jim immediately fell in love with the friendly students and staff and the rich, learning environment. Jim's love for JMU inspires his unceasing efforts to lend a hand, wherever he is needed. He enjoys giving back to the university and believes each campus department is integral for the betterment of JMU's students.
In the summer of 1999, Jim took on the role of interim director of admissions while serving as the director of residence life, co-director for the College Student Personnel Administration Graduate Program and completing his doctorate in higher education administration.
In 2002, Jim readily accepted the position of interim director of the counseling center, thinking that the term would last between six and 12 months. Jim returned to his full-time position as director of residence life after 23 months of allocating his time between the two positions.
His multiple roles within the university signify his dedication and commitment to serve in whatever capacity he is needed. Shannon Kennan, another colleague, describes Jim as "truly a jack-of-all-trades. Jim's versatility and can-do attitude have made him indispensable."
Jim's gifts of leadership and commitment emerge especially when guiding departments during times of need. Adept at creating a supportive environment, he builds staff cohesiveness and initiates improvements.
As director of residence life, Jim has inspired pride and a sense of accomplishment in the office. Under Jim's leadership, JMU's residence life program is one of the best in the country. Jim empowers his employees to take risks and pursue goals outside of their comfort zone. An enthusiastic coach, Jim encourages his staff members to step outside their normal boundaries. These individuals have given back to the program, contributing to the department's continual progress. The investment of time and hard work by these individuals has brought Jim much satisfaction.
During his absences, the residence life office united to carry out daily operations. Although Jim was not physically in the office, the staff knew they could contact him; and he would respond as soon as he could. When situations did arise, Maggie Evans, director, stated, "We thought about Jim ... and how [he] would handle it." His staff praises him for assisting other areas of the university.
Jim's confidence in his staff magnifies the office motto of "Shared Fate," borrowed from the Japanese concept that only when everyone is successful, will we all be successful. The residence life office exemplifies this idea, supporting other campus departments and students while working towards excellence for the success of the whole university.
Demonstrating their admiration and respect for Jim, the office created a gift for his welcome back celebration. Entitled the "ABC's of Jim McConnel," each staff member was assigned one or two letters of the alphabet and chose a word beginning with that letter that reminded them of Jim. Karen Raines who had the letter "Y" used the word "YES" to describe Jim. Using the slogan "Does Jim ever say No?," she listed the various roles Jim has taken on throughout his JMU years.
Celebrating each other's contributions is a common theme of the Office of Residence Life. Jim developed the T.R. Rose award, named after the past associate director of residence life, to encourage and recognize staff members' accomplishments. Ornately decorated with a trophy base, an '80s light fixture in the center, along with a sausage can depicting the face of a younger T.R. Rose, this trophy symbolizes the honor and hard work of a residence life staff member, as voted on by their peers. Over the years, recipients have added items - keys (to signify lockouts), telephone cords, quotes and a smiley-face sticker, just to name a few. The award recipient proudly displays it in his or her office, until it is passed along to the next honoree.
The true meaning behind the spirit of "all together one" lies in those individuals who believe in working as a team for the betterment of others. Jim Mc Connell encompasses this spirit. As a coach, educator, leader and mentor, his goals extend beyond himself. He encourages and empowers students and his staff members to constantly challenge themselves.
"We are all part of the same village," said Hillary Clinton. As a JMU family, we must think on a broader perspective, beyond ourselves and our own accomplishments for the betterment of the students and faculty and staff members of the university.
Vince Lombardi declared, "The difference between a successful person and others is not a lack of strength, not a lack of knowledge, but rather in a lack of will." Reid said, "Jim McConnel has willingly accepted every challenge that he has faced over the past 18 years at JMU. He has strengthened and encouraged others who have encountered problems and transferred to them the will to move on."
Jim McConnel has lived the life of a role model, touching each person he encounters along the way. The following Chinese poem embodies these characteristics and the true meaning of "all together one": Go to the people, Live among them, Learn from them. Love them. Start with what they know, Build on what they have. But of the best leaders, When their task is accomplished, Their work is done, The people will remark, "We have done it ourselves."
Dr. Jim McConnel deserves the "all together one" Award, and the JMU community thanks him!