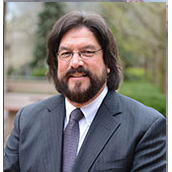 As I began to write this story about Dr. Reid Linn, I found myself truly admiring the nomination that brought him here this day. It was chock full of touching quotes and stories from numerous colleagues, students and friends, all glowing stories telling of the impact he has made here at JMU and beyond, reflecting his caring and inspirational character. Anyone lucky enough to have known and worked with Dr. Reid Linn knows how deserving he is of this award.
Dr. Linn joined JMU in 1985 as an assistant professor of special education and served in various capacities, within the College of Education, including graduate program coordinator and department head, and now Dean of JMU's The Graduate School. Through his many positions and "hats" worn over his 29 year career, he has created an engaging community at JMU, while always maintaining a "person-first" ethic. Kathy Thompson, former Assistant Dean of the Graduate school states that "beyond growth in enrollment and graduate program, Reid's most important contribution is in establishing authentic, trusting relationships and in creating an atmosphere in which faculty feel empowered to share governance and to become an active part of the changing environment of graduate education at JMU. Reid leads with his values combined with JMU's values at the forefront."
Cheryl Henderson, a colleague, states that Dr. Linn is her reason for becoming and continuing to be a "Double Duke." She mentioned that in her many travels to meet teachers, she is frequently asked about Dr. Linn, and told of what a positive influence he has had on those individuals' careers.
A student also writes that "his character is what sets him apart from all others. He is willing to be the squeaky wheel regarding issues important to graduate education at JMU."
He makes sure that his friends, students, colleagues and family know that they always have a cheerleader in their corner, inspiring them to reach their potential. As a former colleague of his says, "I always felt that if Reid thought I could do it, then really it was within my ability… I always knew he would be there, sometimes even when I didn't know I needed guidance." Loretta Ennis, former administrative assistant states, "He was truly a boss that helped you want to be a better person".
Many are drawn towards his "down-to-earth" and storytelling style of communicating." One graduate student said, "He has a big heart, tells funny stories, and always is willing to listen". This along with a plethora of rave reviews have also earned him an unheard-of high score of 4.9 on RateMyProfessor.com. Another colleague of his state's that "the only reason that I don't hug him every time I see him is because it would be a little awkward, but I want to. He always finds a way to make a personal connection with each of our staff, making us feel welcome and needed".
In her nomination letter, Dr. Melissa Aleman states that "In all of his interactions, even under difficult and stressful circumstances, Dr. Linn reminds us of our humanity."
Yet another former colleague writes that her decision to work at JMU was because of Dr. Linn. "I knew that I wanted to work with and for someone I knew would encourage me to be the person I wanted to be", and that "He believed in what we were doing, was an inspiration to all, and truly embraced the idea that we were "All Together One".
It is most evident that Dr. Reid Linn embodies the values of community impact, inspires others, has a dedication to learning, collaboration, and a caring, humble and kind attitude towards all. He demonstrates what it means to be a Duke, is an inspiration to all around him, and is most deserving of this All Together One award based on his continual demonstration of those key values and constant modeling of what it means to be a member of the JMU community. To use the words of a RateMyProfessor.com student review, "It's pretty obvious that Dr. Linn is the man." Dr. Reid Linn, please join me here on the stage.

Written by: Kinsey Browning