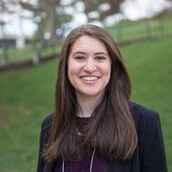 I first met Amy Lebrecht during our Freshman year, when we lived in Shenandoah Hall. Since we were both in the Marching Royal Dukes, we ended up eating dinner together most days before rehearsal. I had a hunch that we'd end up as good friends, but I never would have thought that almost four years later, I'd be helping to present her with this award.  
We received multiple nominations for Amy; they spoke of her incredible breadth and depth of involvement with the Student Ambassadors, Dux Leadership Center, Alternative Break program, and others. In each case, she has left her mark. She has served as President of Student Ambassadors; during her term she helped the program move from Sonner Hall to Holland Yates Hall (formerly Madison Hall). She spent three years on the Dux LEAD Team, where she developed and implemented a new Dux Center program which culminated in an Alternative Break trip to Savannah, GA. Of course, Amy also personally led the trip and associated service project.
While all of this is impressive in its own right, what sets Amy above the rest is the way in which she accomplished it. One of her nominators described her as "... [managing] not only the logistics and administrative duties well, but ... also [demonstrating] a depth of caring and concern for individuals and their personal lives as she helped navigate many different conflicts, challenges, and difficult conversations." The whole time I've known Amy, I've seen her strike this balance in everything she does. She has a rare talent for compassionate leadership, and it inspires everyone around her.
I know for a fact that Amy doesn't do what she does for awards or recognition. But she's so skilled as a leader and role model that she gets plenty of recognition anyway. She was featured in the 3rd edition of The Student Leadership Challenge, by James Kouzes and Barry Posner, pages 199 – 202, which uses case studies to demonstrate and teach the traits and characteristics of great leaders. The book's authors believe that honesty is the single most important trait a leader can possess, followed by inspiration, forward-thinking, and competency. Everyone who knows her knows that she possess all of those traits and then some, and the book's authors agree; they described Amy as "…[enabling] people to take ownership of and responsibility for the group's success by enhancing their competence and their confidence in their abilities, by listening to their ideas and acting on them, by involving them in important decisions, and by acknowledging and giving credit for their contributions." As if this isn't impressive enough, Amy was also chosen for recognition at the Association of College Unions International annual conference, where she received the Student-Driven Program of the Year award.
What impresses me the most about Amy is her incredible humility and dedication to others. At this point, she has to know just how good she is as a leader and role model. But no matter what, she continues to put others first and lead by example in everything she does. She completely embodies the spirit of the All Together One award. Congratulations, Amy!  Please come forward to receive your pin and certificate.