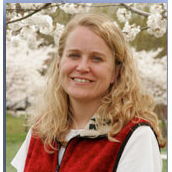 Intro: As a member of Omicron Delta Kappa, I am so honored to present the All Together One Award to Shannon Kennan.  Ms. Kennan was nominated by 3 co-workers and a student office assistant.  From these nominations, the members of ODK were able to clearly see that Shannon is extremely deserving of this important and prestigious award.  I would now like to read some parts of their nominations that demonstrate what a truly extraordinary person Shannon is.
Ms. Kennan's title in the university is Associate Director of University Information and was formerly the Coordinator for the Welcome Center.  She has an extremely important and busy job that directly contributes to JMU in tangible ways such as: acting as chair and significantly guiding the Judicial hearing process for many important cases during her evening hours, implementing the University-wide lost and found system, implementing and enforcing the University's posting policy, significantly contributing to the Sonner Welcome Center's development and staffing, yearly contribution to training University-wide Information Ambassadors, and yearly travel with an Alternative Spring Break trip as a learning partner.  She also serves on the university-wide professional development committee and the CSPA Advisory Board, and has served as an advisor for the Student Ambassadors.  Shannon is also a member of the diversity program "Exploring Dimensions of Diversity: The Value of One" as a way to foster diversity awareness.  As though this were not enough, she then dedicates part time hours in the evening to counseling families in crisis here in the Shenandoah Valley.
She constantly embodies the spirit of All Together One, which is demonstrated in her help to the CHOICES program as well as the Office of Admissions.  She even spent over an hour recently, talking to a prospective student one-on-one, who because of Shannon, decided that coming to JMU might just be worth it.  Shannon constantly strives to help others understand and appreciate diversity, and recently when a colleague of the Hindu religion's father died, all of Shannon's coworkers benefited from the research she provided for them so they could all support the colleague in a meaningful way.
Shannon's ability to connect with students is astounding.  There is a constant flow of students to and from her office which peaks during Homecoming.  There is always a steady stream of JMU alumni around this time who wait to share a few moments with her each year.  This tradition illustrates how significantly she contributes to the lives of JMU students who appear to truly appreciate their on-going connection with her.  Even walking around campus with Shannon is an ordeal, because as one colleague put it, it takes forever just to do because people are constantly saying hello to her!
Some of her colleagues had this to say about Shannon:
 "She is continually subtly coaching people, both students and staff, to believe in themselves, to do the right thing, and to have open minds.  In fact, I have heard more than one student say that she wants to be just like Shannon when she is older."
"Shannon shares her ideas with me and solicits inputs.  She acknowledges my contributions and values me as a person.  This attitude of hers has had great influence on me and allows me to serve to my maximum capacity."
"Her outstanding ability to guide as well as instruct and inspire, have benefited her staff more than she will ever know.  I've never felt so supported personally, professionally, and spiritually on the job.  Whenever I encounter a daunting challenge, she is there to not only encourage and support, but also to expand my knowledge base by gently sharing her knowledge of student development with me"
"Ms. Kennan pays attention to every employee or student and sincerely inquires about their health and well being...She is not only a superior but a mentor and friend as well.  Shannon is a physical representation of JMU's mission by making the university a more friendly, personable place where everyone is welcome as part of a team"
"If you ask Shannon about her first love, it will be James Madison University whose philosophy, ideals, and mission are exemplified by her on a daily basis."
As that last quote perfectly describes, Ms. Shannon Kennan perfectly embodies the spirit of James Madison University and All Together One.  I would like to congratulate her again on being such an exemplary member of our community as to receive this award.  Thank you.