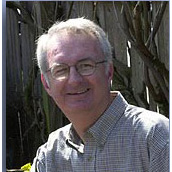 The Third Stonemason
One spring day a man was walking down a street when he encountered a large construction site. Because he was naturally curious and had a moment to spare, he decided to see what was being built. He came upon a stonemason laying stones and asked him what he was doing. The stonemason replied, "I am laying stones." The man continued walking and came upon a second stonemason. He asked, "What are you doing?" The second stonemason replied, "I am building a wall." The man continued walking and came upon a third stonemason. Again he asked, "What are you doing?" And this third stonemason replied, "I am building a cathedral." Three men - all working at the same site, performing the same task - each had three very different perspectives of what they were working toward.
Father John Grace is very much like that third stonemason. It's because he sees the grand picture that he can help students to imagine their full potential and recognizing the potential with in themselves. In this way, Father John has been building JMU students into cathedrals for the past 13years.
Father John is unique in so many ways, one of which is how well he relates to college students. He has formed close relationships with many students, as more than a priest but a friend, therefore many refer to him simply as FJ. He is concerned with more than just spiritual aspects in life. As inspirational as he is in his own faith, FJ also reaches out and welcomes people of all beliefs, recognizing that spirituality plays only a part in everyone as a whole>
"Once I first started to listen to the words Father John had to say, I became so interested in just going to church and learning from him every Sunday that it doesn't matter that I'm not Catholic anymore. I'm just there as a person who's learning about life from someone who's experienced a lot..."
Many students regardless of their background find they can form a bond with Father John.
Because of his openness, the Catholic Campus Ministry house is known as being a gathering place for students of all religious backgrounds where they can express their individuality together. The forming of this community and shared humanity embodies the true spirit of all together one.
Father John's expansive nature and ability to see the big picture has expanded our unique spirit of the JMU community to places as far as Oaxaca, Mexico and San Pedro Sula, Honduras. It's as if the trips were created by Father John to help students discover that they are each a part of a larger world community. This trip to Oaxaca prompted one student to observe:
"I've come to understand that there is serious, powerful significance in being human, in being a member of humanity and being a member of a community."
One of the most wonderful traits that FJ has is that he breaks the perception many of us grew up with that priests are superior to us. But Father John is in fact remarkably down to earth and easy to relate to.
Father John has an incredible humanness to everything he does and says. He accepts that we all have flaws and all have things that we would like to improve upon, but he views them as room to work...and room for us each to continually excel throughout our lives."
That's why so many of us believe that Father John deserves to be recognized at this all together one community gathering. He reveals to us what it means to be your best in all aspects of life including spirituality and leadership. Sophomore Matt Morrell reflects:
"A real leader empowers everyone around him, everyone he meets...triggering in people a desire to act on an idea, act on a passion. Father John, as a leader at JMU, and a leader in the Catholic Church, has triggered that in thousands of people who've had the opportunity to meet him and listen to him...he's certainly triggered it in me."
Inspiring and motivating college students to connect with their spirituality is certainly a challenge, yet Father John's enthusiasm at mass inspires many of us to roll out of bed early on Sunday morning, no matter how tired or busy we may be. Kyle Larabee considers Mass to be a great start to each week:
"I get excited to go to Mass on Sunday because Father John always has such inspirational sermons or homilies and I always feel like when I leave Mass I'm always uplifted and I feel better about my week and better about who I am."
This weeks mass was no exception, two days ago he used Pablo Picasso's painting Guernica, to show how hope can be found in the middle of chaos. Like that third stonemason who could see the hidden beauty his work, Father John revealed to us that the picture contains a small flower that is difficult to pick out, with out someone showing it to you. Thank you Father John for seeing the flower and for showing it to all of us.
The JMU community thanks Father John Grace.
Written by: Emily Orbiot