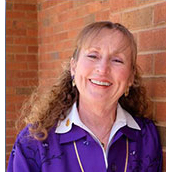 I am here today to tell you a story, about a woman whose career began here at JMU in 1975. Dr. Teresa Gonzalez started giving to our community as a counseling psychologist in the Counseling and Student Development Center, where she became director in 1981. From there, she served as Associate Vice President for Academic Affairs, and then, the first Vice Provost for Academic Development until her retirement in 2015. Dr. Gonzalez then moved to her current position as Academic Affairs Title IX Officer. Throughout her career, Teresa has been a founding member and holds emerita status with the National Network Executive Board/ACE, served on the SCHEV State Committee on Transfer and the Virginia Network Executive Board, and is past editor of the Virginia Association of Student Personnel Administrators journal and lhas published and made presentations in the areas of supervision, female athletes, mentoring, women's career development, career mapping, and sexual assault. These are positions listed on a piece of paper, but the reason Teresa Gonzalez is a recipient of this All Together One Award goes far beyond what can be seen on a resume.
Dr. Gonzalez's real impact on those around her has not been solely about her academic stature or influential positions at JMU, which have been remarkable and many; but about the positive impact she has created; a trait that has earned her JMU's Woman of Distinction Award in the past. Throughout her career she has served competently and selflessly, always going above and beyond. To tell you of her quiet, and humble greatness is not enough, so I will let the words of her colleagues and friends do it for me:
George Sparks states, "Whatever success I've had at JMU, much is owed to Teresa Gonzalez...I count myself as extremely fortunate to have worked with Teresa, one of the most distinctive and caring individuals I've ever had in my life and career."
Melissa Aleman (pronounced:Allah mahn) adds, "Her personal attention and prioritization of student needs...are inspiring. I can't imagine my JMU experience without Teresa as a role model."
Karen Bennington on Gonzalez's caring attitude: "She valued each one of us and took the time to let us know our hard work was appreciated. She did not take us for granted, and for that we were grateful."
Shirley Cobb highlights Dr. Gonzalez's genuine and "unconditional caring, support, and encouragement of students, faculty and staff regardless of age, position, role, or any other area of classification...she enjoys the uniqueness of each person and celebrates life with them."
A recurring theme throughout Teresa's nomination for this award was her willingness to serve her community and the people within. The terms, kindness, compassionate, leader, and empathetic have all been used in reference to Teresa and her contribution to JMU.
It is noted that in the 1970's Dr. Gonzalez established the first support group at the university, for students within the LGBT community. She cares deeply about her students and colleagues, even many years after she works directly with them.
Teresa's nominators were correct in using the phrase "The JMU Way" as a metaphor to embody what Teresa Gonzalez has helped to create at this University and the impact she leaves on those around her. She exemplifies a servant role with kindness and compassion. To paraphrase Dr. Marilou Johnson, Teresa is the family member who cheers us on, the friend who listens and advises, the teacher who challenges us, the mentor who helps us to new and meaningful opportunities. She represents all that is essential to our commitment to "All Together One."
Dr. Teresa Gonzalez, please come to the stage to receive your 2016 All Together One Award.
-Mollie Jones