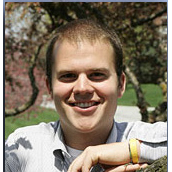 I could stand here today and list off for you a dozen clubs, causes, and organizations that Kevin Gibson is a part of, such as the Honor Council, Alternative Spring Break, and Big Brothers Big Sisters. I could go into depth about his service with the Acting Out Teen Theater, Make Your Mark On Madison, and Outrigger, but I won't. Instead, I want to focus on another aspect of Kevin because we have with us today a truly unique All Together One Recipient.
Kevin undoubtedly feels passionately about each one of the numerous activities he has participated in here at James Madison University , yet what is most important to Kevin is not just the cause or the club itself, it is the people: the people he works with and the people he works to help. Kevin himself said, I feel as if the people around me have shaped this experience at JMU for me, and it is incredible that I'm blessed enough to have had the opportunity to go here and meet them. JMU student, Kristin Naylor, said, Kevin is not just a recognizable face around campus-he recognizes you. Kevin truly believes that he is only a product of the people around him who set him up for success. He appreciates every ounce of time and energy that people give him to become such a great leader on this campus.
It is easy to see that as much as Kevin's peers have influenced his experience here at JMU, he has influenced their experience just as greatly. I was amazed by the large crowd that gathered when I told Kevin he was to receive this award, and I was blown away by the genuine excitement and appreciation of Kevin's peers. They were thrilled that someone so deserving as Kevin was going to receive the All Together One award. I have been overwhelmed in the past few weeks with the number of people who have talked to me about how much Kevin means to them and what a profound impact he has had on their lives. Christopher Conaway was one of the people who nominated Kevin for the All Together One Award, and in his nomination, he claims, Kevin is the most giving, dedicated yet humble peer I have ever met in my life I strive to make him proud and look to him for guidance and advice.
This was not Kevin's only nomination. In their nomination of Kevin for this award, Kristin Naylor and John Robinson described Kevin's JMU experience: Kevin was rejected by JMU admissions on two separate occasions before transferring here for his sophomore year. He had always known that JMU was the place for him He worked so hard to get here and that work ethic didn't end once he was admitted Kevin quickly became a visible and caring leader and in three years has accomplished what many couldn't imagine doing in five.
I was lucky enough to have a class with Kevin last year, but even before I knew who he was, I recognized his face. It is easy to spot Kevin all over campus because he is so involved in life here at JMU. Be it in a signature white and purple stripped OPA shirt or an unmistakable teal Safe Rides shirt, it is never hard to find Kevin in a sea of well over 15,000 students.
Kevin is also very concerned about increasing cultural awareness. He is a member of Brothers of a New Direction and was awarded the National Association for the Advancement of Colored People Unsung Hero Award in 2004. Dr. Steve Grande said, One of the many areas where Kevin stands out from his peers is in his dedication and passion around issues of diversity and multiculturalism. Kevin has taken an active and visible role on the JMU campus around these issues. He has earned the respect of his peers as well as JMU faculty and staff by educating himself and humbly advocating for greater awareness and understanding within the JMU community. John Robinson, who met Kevin through working with Safe Rides, explained the source of Kevin's advocacy; he said, Kevin is a man who loves life, loves this world, but above all loves the people of this world.
Fellow JMU student Keith Mann could not say enough about Kevin and the influence Kevin has had on his life. Kevin was one of Keith's OPAs when Keith was a FROG, and they worked together during freshmen orientation. Keith not only agreed that Kevin breaks down the barriers that sometimes exist between organizations based on social standards, racial lines, or ethical views, he also said, I can only say that in 15 years when I bring my children back to Madison, I will be proud to show them his name in the Commons and tell them how Kevin Gibson changed their father's life.
Kevin is clearly someone who embodies the JMU attitude in the most positive way possible. I wanted more than anything today to express to you how much Kevin means not only to the JMU community but to his peers and friends as well, though I am sure I did not do Kevin justice in this speech. Never the less, I am honored to be talking about someone who has accomplished so much here at JMU and has had such an exceptional impact on this campus. I would like to close with what our newly elected SGA President, Wesli Spencer, had to say about Kevin: He would probably be too humble to even accept this award because that's the kind of person he is. Kevin doesn't care if people know the things he's done, the many organizations he's been a part of, or even the things he is destined to do; he simply cares about peopleThat is the spirit of All Together One. No matter your age, race, education, socio-economic status, I can honestly say in Kevin Gibson's mind, you are ONE.