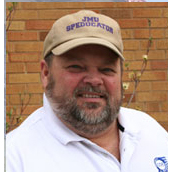 Good Afternoon. My name is Molly Mercer and I have the distinct honor and privilege today of speaking to the talents, gifts, and dedication of Dr. Richard Evans whom I have had the honor of working with very closely with during my time here at JMU both on a professional and a personal level. Dr. Evans serves as part of the Exceptional Education faculty here at JMU, and whether it is having the Special Education Ambassadors over for dinner or staying until 9:30 at night to meet the needs of students Dr. Evans truly defines the spirit of All Together One.  I would like to share with you the letter sent to Omicron Delta Kappa by Miss Molly Manwaring nominating Dr. Evans for this distinguished award.
A year and a half ago I was introduced to Dr. Richard Evans in an advising session in Roop Hall. At the time I was having difficulty aligning my goals for the future with a major here at James Madison University. He immediately took a genuine interest in making sure that my current major and minor combination would allow me to pursue my career aspirations in the future. Needless to say, I am now nearing my junior year of study, and without this initial encounter I am not sure I would have had the privilege to witness the unbelievable impact Dr. Richard Evans has had, not only on myself, but those that have been blessed through his time, his gifts, and his talents.
To the campus of James Madison University, Dr. Richard Evans has bestowed an interest in seeking balance between challenge and success inside and outside of the classroom, an unending dedication towards the betterment of education, as well as the selfless gift of service.

As a student in Dr. Evans Special Education 320 course, we studied individuals with learning disabilities. It is unknown by many that Dr. Evans himself struggles with a learning disability in phonemic awareness. While this is a subtle detail of his life, his class gives inspiration and meaning to the field of special education, all the while challenging us to raise the bar and be the change for students like him. 

After a full day of work at Memorial Hall, Dr. Evans can be found advising the organization known as "SPED Ambassadors." This is an organization home to the special education department that seeks to strengthen student-faculty relationships, aid in peer advising, and serves as a liaison between the department and the community. When Dr. Evans leaves the university for the day he continues his dedication to education. He is a dedicated servant to his church. He and his wife pull together their resources and talents in leading Bible studies for their church's college ministry; the two also lead parenting classes. 

Dr. Evans actions are indeed selfless. This past Thanksgiving, he along with a group of fifty-five students and faculty from the College of Education here at JMU made a trip to the Gulf region, aiding in Hurricane Katrina Relief. Throughout the week he worked alongside many of his students in rebuilding homes and communities. Dr. Evans also worked with Kappa Delta Pi, the International Educational Honors Society, to collect books to share with the many children without such resources in the Gulf region. His selfless actions continue as he makes plans for service trips elsewhere across the country. 
It is my greatest conviction that I believe Dr. Richard Evans embodies the spirit and purpose of James Madison University.
I myself currently serve as a co-director with Molly Manwaring who wrote the nomination that I have just read for you, and her depiction of Dr. Evan's selflessness could not be more accurate. I have also interviewed several of Dr. Evan's students who have all said that Dr. Evan's impact on them has been not just for their college careers, but for a lifetime. He has always been willing to go above and beyond in every sense of the term. The All Together One Award is to honor the unsung hero in the community, who is dedicated but modest. No other recipient so deservingly meets these qualifications than Dr. Richard Evan and I am privileged to bestow this award on such a distinguished member of the James Madison community.